Short links for August 10th, 2009
Some interesting things I found recently, and not so recently (since it's been a while since I posted short links).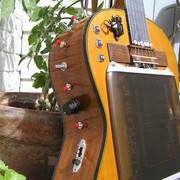 The idea behind "la Guitare à crayon" is to be able to paint and play music with the same instrument (crayon mean pencil in english). It's a custom usb guitar with open source software: namely, pure data (for sound) and gimp, blender, flash (for visual).
Guitare à crayon
Hardware features:

Accelerometer X-Axis (for example controlling the octave)
Accelerometer Y-Axis (for example controlling an effect)
6 analog strings giving around 10 bits of resolution
External input: 1 analog, 1 digital
4 positions switch
8 buttons
4 pots
1 piezo with velocity filter (for example trigging any sound)
1 ir distance sensor (+-6cm – +-20cm)
1 unuseful led (for tapping the bpm)
Pressure-sensitive tablet
Foot controller (using a led & a photoresistor)
Foot switch (looper, change sound, …)

Software features:

No driver (firmware & bootloader)
Linux, Windows, Mac
Pure Data poweful DSP (sample, soundfont, fx rack, multiple looper)
Gimp for 2d (drawing, painting, photo, …)
Gesture tracking on the tablet (linux only)

# 8 Track Walkman-Pod thing (Retro-tech)
Instructables user XenonJohn writes:
This is an admittedly mad project to see what might have happened if Sony had invented the Walkman earlier than they did – and made it so it took 8 track tape cartridges (which came before cassette tapes were invented).

In other words, can I make a personal 8 track player with just headphones in the style of a Walkman?
vtol's 8-bit noise synth project:
8-bit noise synth is my latest project based on HT-8950 voice changer chip. Like my Lo-Fizer and Noise guitar it can produce noises by itself or process sounds like a lo-fi ring modulator, 8-bit pitch shifter and simple guitar synth/digital fuzz. I've also added two body contacts that change pitch or trigger sounds – in particular mode they work like theremin sensors. Check also 8-bit noise synth ver.2 , ver.3 and Star Noise synth.
# CASSETTE IS NOT DEAD – A lamp made of cassette tapes by ooomydesign.com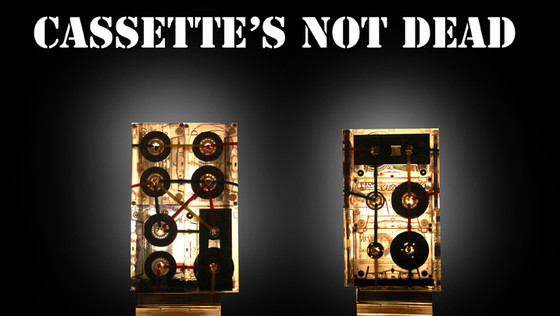 You can replace the cassette tapes with your own as well
Available in transparent and colored cassette tapes, 20x13x12cm, price 35 EUR.
# NESynth – Retro game sounds piano for iPhone. NESynth is a virtual synthesizer that simulated 8 bit sound of video games in the 80's.
# Palalab's Free Music Loops, Samples in ACID™ .WAV format
Palalab is offering free multi-instrumental sample loops in a variety of styles designed to be different, inspire your songwriting and fill out your mix. All loops can be used royalty-free, are properly ACID™ized for quality pitch and tempo transposition, and loop seamlessly.
Every week Palalab posts a new sample pack consisting of 5 loops. Each pack stays up for 4 weeks only, so be sure to bookmark this page and check back regularly.
# Download Free Korg nanoPAD, nanoKONTROL Scripts for Ableton Live
Peter Kirn writes:
The KORG nanoSERIES has a rabid following among many Ableton Live users, and with good reason. The nanoPAD and nanoKONTROL street for about US$60, provide basic knobs + faders + transport (KONTROL) and pads and X/Y control (PAD), plus a fully-featured, cross-platform editor, but still fit in a backpack. They're small enough to use in coach on an airplane.

Having to open Live templates, however, just to get the mappings you want is a big pain. So, instead I've created a basic set of MIDI Remote Scripts and Kontrol Editor templates for Mac and Windows, Live 6.x and later, and wanted to share them with you.
# Gijs Gieskes WalkSX – The Walkman has a audio recording of some sort, on one side.. (L) And a audio signal that is used to trigger the arduino sequencer on the other side (R), that sequences the Gakken SX-150.
# Techniques for dealing with Phase

Jon @ Audio Geek Zine takes a look at what phase is and how to avoid problems with it in your productions.
Phase is a constant concern for recording and mixing engineers. Problems with phase can ruin your music, they can be easily avoided or corrected, but first you need understand how these problems occur.

This guide will attempt to explain almost everything there is to know about phase, what it is, how it happens, what it can sound like and some techniques to deal with it.
# Samples | synthesizers.se – Bunch of free samples including some REX'es of the Yamaha MP-1 and a ReFill featuring Mario Paint sounds.