Short links for August 13th, 2008
Some interesting things I found on August 13th, 2008: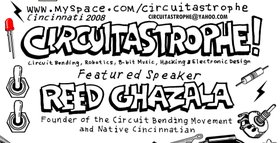 # Circuitastrophe Symposium – Cincinnati Sept 4-8th 08. Circuit Bending, Robotics, 8-bit Music, Hacking & Electronic Design
From the anti-theory website:
From September 4 through 9, 2008, Cincinnati, the birthplace of circuit-bending, will host its first circuit-bending festival, Circuitastrophe! The dream child of Professor Mark Shafer and the noise music artist Nebulagirl, Circuitsastrophe! will presents 20+ performers and groups from around the country appearing at some of Cincinnati's most unusual and historic venues such as Northside's vintage Masonic Art Damage Lodge. The lineup is included at the end of this press release. Circuitsastrophe! also features workshops and talks, including a rare public appearance by Reed Ghazala on September 6, presenting "The Folk Music of Chance Electronics," or "How to Start an Art Movement Without Really Trying."
# The Strangest Synthesizers In The World – You haven't seen weird, until you've seen some of the bizarre synth contraptions that keyboardists and electronic musicians have come up with. In fact, some of these instruments are so weird, we're not even sure if they are synthesizers! Take a look at this twisted synthfest, and you be the judge.
# Reaktor Inspiration: Visual and Audiovisual Art – Reaktor user sonictwist made a gallery with visual stuff made only with Reaktor 5.
# Ableton Live – Intro to Slicing and Drum Racks – A step by step walk through the process of slicing a loop while giving you an introductory overview of Ableton's Drum Rack features. The video also covers simple sound design ideas for changing your existing slices so you get more mileage out of the loops you've already created!

# How 2.0: Digital Wall Harp – Use infrared sensors to make off-the-wall music!
This is a pretty simple Infrared Harp. The sensors work like on/off switches to trigger various sounds when they are plugged into your computer's music program. With the MidiTron you can use any type of analog or digital input device, from temperature sensors to regular switches, to trigger your sounds. Get creative, it's really fun to think about all the things you could play!
# Hacking a toy guitar to make a "Frets on Fire" controller – Step-by-step instruction on how to hack a standard computer keyboard to build your own Guitar Hero-Like controller for the free, open source Guitar Hero clone "Frets on Fire".