Short links for August 18th, 2010
Some interesting things I found recently:
# Shamantis – J. BIEBZ – U SMILE 800% SLOWER
I'm pretty sure you've already heard (about) this, but I just wanted to stress the fact that it's the excellent Paul Stretch that makes stuff sound cool.
# Dan303: Percussion/Bass Pack
Dan303 returns with another free pack of samples.
Here's a little sample pack I put together using my Microkorg and FB383 synthesizers.
This Pack contains 4 Bass Patches [NNXT] and 22 synth Percussion hits
# SoundPrism – Colorful, Playable iPad App – and Organizing Tones and Harmony Visually
Peter Kirn talks with Sebastian Dittmann, CEO of developer Audanika, developer of SoundPrism, the app they describe as something they are not entirely sure of what it is. From audanika.com: "We think it might be a musical instrument but we're learning new stuff playing with it every day… which sometimes goes beyond the scale of that."
Peter Kirn writes:
Using an array of rectangles arranged in a harmonically useful way, and color coding for pitch, SoundPrism is a glimpse of a more graphical future for music software design. (Nor is this necessarily limited to the iPad in the long term – in addition to Windows 7, Ubuntu 10.10 is getting official multitouch support, which I think both validates Apple's work and suggests we'll see more platforms for this kind of interface.)

And, bonus, it all demonstrates why arranging pitch by the Circle of Thirds can be ideal. I got a chance to talk to the developers of SoundPrism about the thinking behind the software.
More info on SoundPrism: Audanika
# Ableton Live Quick Tip – Resampling and Sample-Based Workflow
From Nick's Tutorials:
Resampling is an incredibly simple yet powerful technique in digital music production. The idea is straighforward: Record the output of one or multiple tracks into a new, editable audio file. It's not much different than rendering your composition, except here you're actually going to incorporate the new file into the current song.
# Celebrating Leon Theremin's Birthday with Video, Notes, Links, and a Soundcloud Set
Mark at Modulate This! writes:
Leon Theremin (born Lev Sergeyevich Terme) was born on this day, August 15th, 1896. To help celebrate I'm going to do a bit of a stream of consciousness post and will offer some links on Leon and his wonderful instrument and some notes on my use of it.

Hang in there till the end of the post as I've created a Soundcloud set called "Theremin Action" which is a collection of all the songs from REBOOT and I Hear Your Signals that use that Theremin sound or Theremin as a Controller.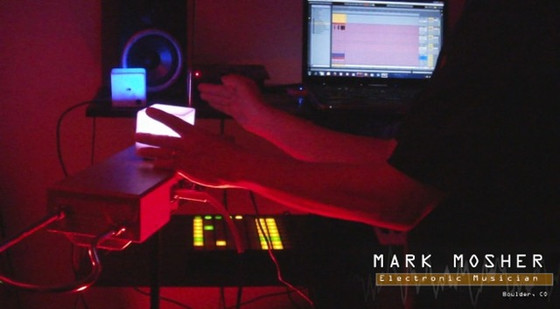 Mark controls virtual synths in Ableton Live using the Theremin and Percussa AudioCubes