Short links for August 24th, 2010
Some interesting things I found recently:
# The World's Biggest Drum Machine
If you ever wonder what we do at night here at the PHQ, here it the answer: We build large, silly drum controllers and haul them across town.
# Find, Remix and Reuse – SoundCloud Style
SoundCloud gets advanced search, browse by tag, and Creative Commons integration.
Choice is good, right? We just love that we can pick our favorite ice cream flavor or favorite color for a new shirt. When it comes to audio creation, it's even better when your choice creates more choice for others.

Today, SoundCloud is opening up a bit more to allow you to find and share more sounds to use and reuse. With new search and discovery features for Creative Commons tracks, your creations can go much further. More options give you more freedom over your audio content on the web. It helps expose your work and find people to collaborate with that you perhaps wouldn't normally find. We're excited about this update and we hope you are too. We say "New features!" you say "Yay!"
Some of my music and samples (both Creative Commons licensed) are available from SoundCloud as well.
# Incredible vintage lucite organ for sale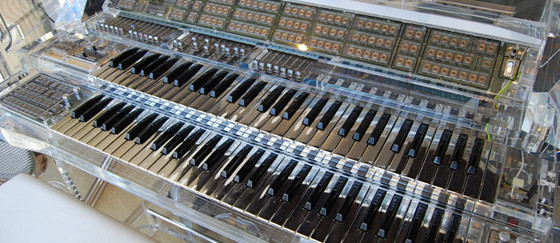 Wersi Electronics Delta Digital DX500
From Boing Boing:
Over at ye olde Submitterator, Pea Hix points us to this magnificent c.1970 lucite Wersi Digital DX500 organ and speakers for sale.

"The Delta Digital DX500 organ comes replete with all manuals, control panel templates, music stand, amplified speakers, lucite dollies, pedal board, adjustable bench and chromed keys. And it works beautifully!!!" Just $85,000 at 1stdibs.com.
# Free Synth Patch Friday: 12 New Patches for Camel Audio Alchemy
Tom @ Waveformless is back with some free sounds:
We have a little something different instead of Free Sample Friday this week. Instead, we have Free Synth Patch Friday. Below are 12 weird, original patches for Camel Audio Alchemy programmed by yours truly. Enjoy!
More patches from Tom are available on Waveformless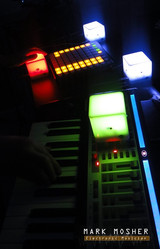 # Percussa AudioCube Production and Performance Notes for "I Hear Your Signals"
Mark writes:
For my original music album "I Hear Your Signals" (download the album free) I use Percussa Audiocubes as performance controllers. In this post I'll give you all the geeky details about how the controllers were applied in the project.

I used 4 AudioCubes plus Percussa's free MIDIbridge app on Windows to configure and route AudioCube signals to Ableton Live. I use the same MIDIbridge patch for every song which allows for consistent and predictable data mapping from the cubes to Ableton Live.

In general, I play a lot of the notes on you hear on the album via keyboards, Theremin and Tenori-On live. I tend to use the cubes as controllers, for scene launching, and for real-time modulation of effects and synth parameters and only use them for triggering notes from time to time.
# V-Synth GT Richard Devine Patches
Roland has released a free collection custom V-Synth GT Patches from Atlanta-based electronic musician, composer and sound designer Richard Devine.