Short links for August 4th, 2010
Some interesting things I found recently:
# YouTube – Beardyman – Live in the Underbelly: The Full show
Gotta love Beardyman! via Waveformless
# Cellular Automidi – Audio App
Actionscript developer Lawrie Cape created a cellular automata based AIR app:
Cellular AutoMidi is a generative music app, making "music" based on a modified Cellular Automata algorithm.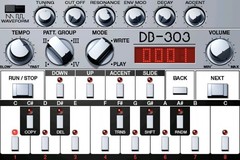 # iPhone Beats and Bass, Free This Week, More Fun with Mic Input on iOS
Peter Kirn writes:
Ah, Mondays. If you're looking for a way to brighten your work week and you've got an iPod touch or iPhone you can drop into your pocket, iOS music and audio developer Pulse Code tells us they've made four of its apps free for this week only, through August 8. That includes BtBx [iTunes], a simple and fun drum machine, DB-303, a simulation of the Roland TB-303 bass line synth and a particular favorite of pocket iPhone musicians, as well as a couple of fun toys – a robot tone synth and sound effects maker called Android FX and a text-to-speech "robot comedian." These will all run on iPad, too, of course, though none has yet been adapted to iPad's native resolution.
# Waveformless: Free Sample Friday: Arp Axxe Samples
Another great summer weekend is upon us, and that means it's time for another Free Sample Friday. We have another guest entry today sent to us by reader Psychpoppet. (You can check out his stuff here and here…)

These samples are from an Arp Axxe he's restoring, which just so happens to be one of the black and gold models. 8 sounds in all, including raw waveforms as 24-bit/44.1k WAV files.

Enjoy, and if you dig them, be sure to give Psychepoppet a shout out in the comments!