Short links for August 8th, 2008
Some interesting things I found on August 8th, 2008: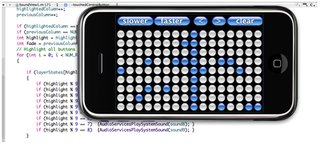 # Musical Buttonpad for iPhone (Codename "PaklSound1")
Developer Patryk writes:
For my first iPhone project I'm working on a musical button pad that is inspired by the Tenori-on (but quite a bit simpler).
Basic improvements pending until 1.00 release:
better responsiveness
eliminate lag when switching layers
add more soundsets (thanks to freesound, probably!)
# Radiohead House of Cards Data: Time Lapse Rendering in Real Legos
Peter Kirn writes:
When the creative team behind Radiohead's new video for House of Cards released 3D imaging data of Tom Yorke's head, I'm sure they looked forward to finding out what people would do with it. I'm guessing one thing they didn't expect was for someone to go manually through the data and painstakingly reproduce it in actual, physical Legos, one … brick … at … a … time, then make it into motion again with time lapse photography (okay, with a fair bit of fakery and digital legos added, though quite nicely).
# Carl Craig Gets an Orchestra – Not to be outdone by the Glitch Mob's unique live band approach to computer music, Detroit techno legend and Planet E boss Carl Craig is stepping away from the laptop and heading not to a MIDI controller, but a full orchestra setup.
# WolframTones algorithmic composition generator – WolframTones works by taking simple programs from Wolfram's computational universe, and using music theory and Mathematica algorithms to render them as music.
# iPhone Ups and Downs, Unhappy Developers, and the MIDI Controllers You Can't Have Yet – Peter Kirn explains why some interesting things for your iPhone aren't happening…
Apple won't let some developers on their device,
Apple is failing to communicate with developers,
Apple is gagging developers and making coding harder.
# The Reconfigurable House installation, built with thousands of hacked toys and gadgets, an environment constructed from thousands of low tech components that can be "reconfigured" by its occupants. Any sensor/actuator can be connected to any other sensor/actuator — it is the occupants of the house who determine the systems that run inside it.