Short links for December 1st, 2009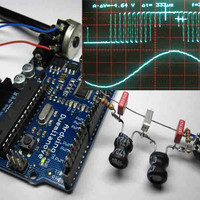 Some interesting things I found recently:
# Arduino Sine wave Generator using the DDS Method
From Lab3:
Here we describe how to generate sine waves with an Arduino board in a very accurate way . Almost no additional hardware is required. The frequency range reaches form zero to 16 KHz with a resolution of a millionth part of one Hertz ! Distortions can be kept less than one percent on frequencies up to 3 KHz. This technique is not only useful for music and sound generation another range of application is test equipment or measurement instrumentation. Also in telecommunication the DDS Method is useful for instance in frequency of phase modulation (FSK PSK).
# ningear – This eBay seller is listing lots of Nine Inch Nails gear from their last tour. Want a piece of NiN? Get it now on eBay!
# Schipmann Music out of business Via Matrixsynth
Dear customers!

We are finishing our business. These are the very last units of "ebbe und flut" ever!! We are thankful for all our satisfied customers. We will be there for you in support and service in that time after this sale.

Yours sincerely,
Carsten Schippmann (CEO)

Last ebbe und flut MKII units going for 999 EUR (normal price: 1498,21 EUR per unit) Tempting…
# Gruss Loops – Volume VII is here!
Ryan writes:
I'm happy to announce that the wait is finally over. Gruss Loops Volume VII is now available! With some major studio upgrades at Gruss Headquarters over the past month, I think you'll be able to hear the enriched sonic textures that only a few thousand dollars made out to Steve Jobs can bring. If you put your mouth against the speakers, you might even be able to taste it.
# 5 Years of CDM NYC Party: Beats + Baile + Open Bar + Laptops + Twitter Twister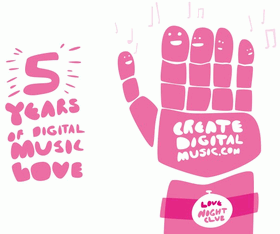 Time flies when you're having fun. Congratulations to Peter Kirn and CDM.
Pete writes:
Link love, chip love, software love, music love – Create Digital Music is celebrating five years, and it's time to spread some of the love back to you here in New York City.

Wednesday night, we'll be celebrating five years made possible by our incredible readers with a big party at Love Nightclub in Manhattan.
# Waveformless: Free Sample Friday: Vocoded Drums
Tom writes:
Most of my American readers probably have today off, but regardless, the weekend is almost here! So here's a small set of 16 drum sounds sent through a vocoder for your downloading enjoyment… All samples are 24-bit/44.1k.
# little-scale Novation Launchpad – Sebastian uses Max/MSP to create a linear sequencer, ripple sequencer and waveform editor for the Novation Launchpad.
Today I made a simple ripple-based sequencer for the Novation Launchpad. The idea is simple. By pressing a grid button, a yellow, square ripple is created that emanates from the point that was touched. By holding down a modifier button and pressing a grid button, static, red points are created. Each red point represents a musical note. Whenever a given yellow ripple intersects (touches) a red point, the sequencer plays a note.
# Endless loop: A brief history of chiptunes
By Kevin Driscoll, Joshua Diaz. The abstract:
Chiptune refers to a collection of related music production and performance practices sharing a history with video game soundtracks. The evolution of early chiptune music tells an alternate narrative about the hardware, software, and social practices of personal computing in the 1980s and 1990s. By digging into the interviews, text files, and dispersed ephemera that have made their way to the Web, we identify some of the common folk-historical threads among the commercial, noncommercial, and ambiguously commercial producers of chiptunes with an eye toward the present-day confusion surrounding the term chiptune. Using the language of affordances and constraints, we hope to avoid a technocratic view of the inventive and creative but nevertheless highly technical process of creating music on computer game hardware.