Short links for December 3rd, 2008
Some interesting things I found recently:

# Beat Fixx – Natural Performance Enhancement For Drums
Beat Fixx is a professional drum quantizing service. AudioGeekZine's Jon Tidey explains what this is all about.
What is this?
Professional drum quantizing. A new service for getting your drum tracks corrected. Using Pro Tools' Elastic Audio and Beat Detective, drumming inconsistencies on a recording can be snapped into time, while maintaining much of the personality of the original performance.

Who is it for?
The service is aimed at home, project and pro studios that may not have the time or resources to do the corrections themselves. Effective and natural quantizing techniques take time to master, I'm sure you'd rather be recording guitars. Spend a few hours editing drums the wrong way and you'll understand why this is a great deal.

How much?
Beat Fixx is currently charging a flat rate of $50 per song. Payments are processed through PayPal.

How long does it take?
You can expect corrected tracks in 1-3 days. Approximately 24 hours is typical.
# DEVSND.COM | DEVINESOUND – Website of sound sculptors Richard Devine and Josh Kay. You'll find some top notch free Battery kits (including .wav samples) in the library section.
Free DEVSND Battery kits
Modded ARP 2600, custom samples from a heavily C.M.S. modded ARP 2600. A strange collection of percussion one-shots, hits, pulses, and other unclassifiable noises.
Broken Santoor, custom samples from a detuned & broken suntur, made using a cello bow, battery-powered fans, wind-up toys, and hematite magnets.
Bent TR-808, custom samples from a bent and rewired TR-808 drum machine.
Check DEVSND.COM for audio demos and links to download these lovely samples.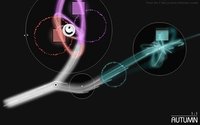 # Auditorium – A free Flash game about about the process of discovery and play:
The Primary Goal of Auditorium is to guide your Flow into the various Audio Containers presented before you. As you fill these Containers, you will energize them. Given enough energy, the containers will begin to sing together in a symphony, providing the ultimate Harmony of Flow. But be advised: While some containers merely require the presence of Flow Energy, some containers will require a specific color of Flow. Beyond that, you may encounter containers that require a combination of two or more colors at a time in order to fill.
Link via CDM
# STEIM is safe – From the STEIM website:
We have good news: STEIM is safe and will be able to continue her work. The Council for Culture has reversed her decision, without a doubt impressed by the well over 1000 support letters we received in just two weeks. Insightful, eloquent, personal letters from all over the world. We cannot thank you enough. You helped us realise again how extensive and faithful the network around us is, and we are excited that we can keep working with you and continue to build collaborations, connections and exchanges.
Unfortunately at the moment it looks like the City of Amsterdam is not going to continue her support for STEIM. The final decision on this will happen in December. We'll keep you updated.
# Free Download of The Prodigy – Invaders Must Die (Radio Edit) – Fill out the form (yes you'll get some related news about The Prodigy in your inbox) and you'll get the free mp3 download.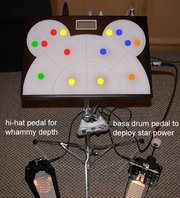 # Play Rhythm Games using any MIDI Instrument
egyokeo writes:
Since I injured my middle left finger playing Guitar Hero 2 way too much when it came out, I've been dying to get back to playing it. But my finger hasn't healed. I was holding the neck too tightly on the X-plorer guitar controller and it hurts to bend it anymore. I've never had an injury playing the drums, so I thought "wouldn't it be great to be able to play Guitar Hero on the drums?" So I thought about how that might be accomplished… researched, implemented, borrowed, and here I outline the finished product.