Short links for December 3rd, 2010
Some interesting things I found recently:

Miguel Isaza introduces Designing Sound TV, Television for Sound Designers.
Could you imagine the concept of television re-imagined for sound designers only? How would that be?

How would be a Field Recording TV channel? or can you imagine a show where you can see how the sound of a recent film was done? or what about watching some channels where you can find other guys like you recording sounds outside the world? What if you could watch interviews with different sound designers each night while you drink a cup coffee?

Well, I've created something like that, but using the Internet. It's called Designing Sound TV, a new website packed with lots videos about sound for films, video games, tv, and more. There you can find all kind of stuff on sound design, field reording, foley, mixing, and more.
# Hiphop Experience vol.4
Dmitry Vasilyev aka Cyberworm brings the fourth part in series of free hiphop drum loops (36 loops in stereo wav format, 24bit/44.1kHz, 43 MB).
# Music Kits #1: DIY guitar effect pedal kits
Music Thing is back! (though Tom notes that "Normal service will not, I'm afraid, be resumed…")
After almost two years since the last blog post Tom Whitwell returns with a list of 23 DIY guitar effect pedal kits.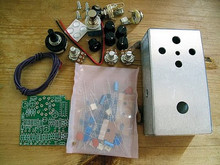 Over the last couple of years, I've spent a few evenings building DIY guitar effects. It's fun to build things that you can use. If you want to get started, one of the hardest things is buying components. Try to buy a 10Ω resistor from Farnell, and you're faced with a choice of 345 items. So, starting out buying a kit is a good idea. At least you'll know the parts are right, even if when your soldering isn't.

However, not many people sell kits. Despite the potential markup on a handful of bulk components, the customer service is – presumably – a nightmare. Here are 23 companies who will sell you complete component kits for guitar effects – many more people produce PCBs, or sell finished pedals. Stay tuned for similar lists on synths/noise boxes and tube amplifiers.
# Google Translate Beatboxing – If you haven't heard about Google Translate's beatboxing skills yet you probably spend a more than healthy amount of time away from the interwebs. Check it out, it's cool.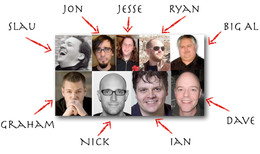 Jon Tidey at Audio Geek Zine shares some useful tips on editing & workflow as part of a series of 9 interviews with recording engineers from around the world.
What is Home Recording Tactics? This is a collection of audio interviews with 9 hard working, successful home studio engineers (including me). The interviews were led by Joe Gilder of Home Studio Corner. He got these guys to share all their secrets on a variety of home recording topics.
Also features sound design tips by Nick Maxwell of NicksTutorials.com
# Virtual Theremin Made with Kinect; Real Thereminists Will Make it Useful
Create Digital Music's Peter Kirn writes:
Who says technology has to move fast and die young? Leon Theremin may have been a full century ahead of his time, before computers, before transistors, before jet engines or atomic power or rockets.

ReacTable creator Martin Kaltenbrunner has a virtual Theremin prototype built with Microsoft's depth-sensing, 3D Kinect camera. And what he really needs is some players of the real Theremin to help develop it.

# Capture And Share Your Sounds
SoundCloud's iPhone app makes it easy to record and share your sounds from anywhere.
Today, we're excited about the release of the recording feature.

The Record button will make it easy for you to capture all kinds of sounds right on SoundCloud & with the iPhone app and share them from anywhere to everywhere on the web: your website, social network profiles or simply between friends & family.
# TouchOSC for Android released
From hexler.net:
Friends of hand-held devices not sporting the omnipresent "i" prefix take note: TouchOSC for Android has been published on the Android Market! And it's free. Free as in beer.