Short links for December 9th, 2008
Some interesting things I found recently: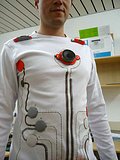 # Wearable Toy Piano – A Toy Piano embedded on a T-shirt.
Instructables member mikamika explains:
It has 8 keys from Do to Do (1 octave). You can play simple music by wearing the shirt and pushing the fabric button on the shirt. All the components from the toy piano (batteries, speaker, circuit board) are placed on the shirt and connected with poppers. All these hard components are detachable so that you can wash it if you wish.
# delicious blog » gettin' taggy wit it – delicious has integrated FoxyPlayer for better support of audio files.
FoxyPlayer is a slick embedded audio player that supports a wider variety of audio formats and interoperates with the popular FoxyTunes add-on for Firefox and Internet Explorer. But perhaps most interestingly for Delicious users, it also turns your audio bookmarks into playlists you can control from your browser.

# 8-Bit Jesus: New Christmas Chip-tune Album | Doctor Octoroc
Doctor Octoroc writes:
I've been working on a new album for the past few months and am releasing a free MP3 download of the first half – sort of a preview, I suppose. The album is entitled 8-Bit Jesus and contains 9 tracks thus far. Each one is a chip-tune version of a classic Christmas song done in the style of a different NES game.
Songs include Silent Knight Man, Little Drummer Nemo and Super Jingle Bros. Download the album (or individual tracks) here.
# ::vtol:: Noise guitar – Digital Noise guitar is a custom project based on HT-8950 voice changer chip. Small circuit was mounted right in the body. It can process sound like lo-fi ring modulator, 8-bit pitch shifter or simple guitar synth. Mad Selfoscillation is possible too.
# 25 Awesome things I've failed to post on Music Thing over the last couple of months – Nice list by Tom Whitwell @ Music thing.