Short links for February 20th, 2008
Some interesting things I bookmarked on del.icio.us on February 20th, 2008: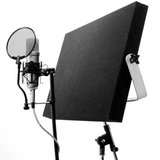 5 Reflection Reducing Products


Problem: Your recording room is too large or not properly treated for vocals, you need some way of reducing the room sound before it hits the mic.

Audio Geek Zine lists a few devices to help isolate the room from the mic.


The Amazing Staircase – Combines a staircase with bookshelves, clever!
limpfish.com – Beautiful art including portraits of Simpsons characters painted in the style of Rembrandt
Guitar Effects Schematics & Projects – Muzique.com's resources for building your own guitar effects.