Short links for February 26th, 2010
Some interesting things I found recently:
# Neurosonics Live (Vimeo)
Chris Cairns of Neurosonics Audiomedical Labs Inc. posted another Neurosonics video, the Holographic Drumkit and Turntables test.

DRUMS: WILL CLARK, TURNTABLES: JFB, HEADS: BEARDYMAN
GroovePacks has released a new sampler freebie featuring 10 Sampler instruments (Live 8 and Sampler required).
The instruments were made using samples from our Foundation 1 & 2 sample packs, and also some waveforms from the default Ableton library. Open the info view to see additional information on each rack. You get some great sounding sfx, bass, pad and rhythmic sounds. Install instructions are on the zip file. Enjoy!
Hardware unit with real 8-bit A/D and D/A converters, true analog multimode filter with resonance control, an FX section with Waveshaper, Delay, Pitch Shifter and Step Filter, and more…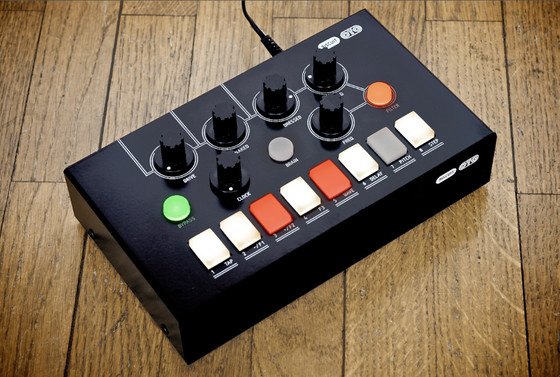 OTO Biscuit
Add depth, texture and organic behavior to synths, basslines, drum machines and virtual sounds from computers with BISCUIT !

By using 8-bit converters, digital processing and analog resonant filters, Biscuit opens up a wide range of sounds from harsh distortion, digital and aliasing artifacts to warm and fat 8-bit sounds.

Producers, deejays, musicians and sound lovers can use BISCUIT to extend their sound creation possi- bilities.
BISCUIT will find its place in studios, on stages or even in clubs.
via CDM, where you can also find an interview with creator Denis Cazajeux.
# SNOOKY001 DRUMKIT « timothyJ:
Free drumkit by Timothy Preut:
new drumkit called SNOOKY001. It is a combo of some kinda retro meets grimey meets elctronic. Have fun using these sounds.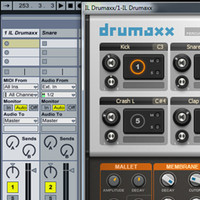 # Image Line Drumaxx Tutorial – Routing Pad Output to Separate Audio Tracks in Ableton Live
Mark Mosher posted a tutorial on how to route pad output of Image-Line's Drumaxx percussion synth to separate audio tracks in Ableton Live.
Image Line has just released a new Percussion Modeling Instrument called Drumaxx made by Maxx Claster. Drumaxx includes 130 drumkits, 900 drum patches, 200 drum patterns. If you use Sawer, Sakura, Morphine, Poizone, or Toxic Biohazard instruments, then you are familiar with Maxx's work.

Image Line is offering Drumaxx as a "name your price" download for limited until March 31st,2010 with a minimum price of $13 USD with $1 going to support Haiti earthquake victims. With a deal like this I thought it was a "no brainer" so I picked it up.

One of the coolest features is that each of the 16 physically modeled drums can be routed to individual tracks within your host so you can add additional effects. Below I'll show you how to set this up on Ableton Live.
Trevor Dutton wrote in to let us know that he's hiring out the services of his electronic music studio.
Studio Wormbone is a compact and efficient state of the art recording and production facility located in a quiet forest setting just outside the Emerald City of Seattle.

Owned and managed by sound designer/producer Trevor Dutton, Wormbone Studio specializes in all aspects of electronic music, sound design, and cutting edge audio production.
Trevor has also released a number of sample packs, now available from Producer Loops.