Short links for February 7th, 2011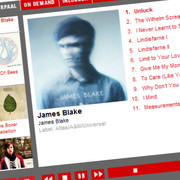 Some interesting things I found recently:
James Blake: James Blake
Stream of James Blake's new album is available from the Dutch 3VOOR12 website.
British dubstep-pop up-and-comer James Blake's self-titled debut album is out digitally next Tuesday, February 8, via Universal Republic in the U.S. (it'll drop a day before in the UK via Atlas/A&M). Right now, the whole album is streaming over at 3VOOR12; you can head here to take a listen.

Furthermore, Listen Before You Buy points out that a bonus track from the LP, the haunting, sparse "Tep and the Logic", is making the rounds.
Listen to the album at 3VOOR12
via Pitchfork
Improved Reaktor voice panning and a little digital archaeology
Peter Dines:

I was reading through the Reaktor application manual which is greatly improved in recent times, and came across this structure to pan voices in the stereo field
More at the Reaktor Tips blog
din: create sound with Bezier curves in free instrument for Linux
Make music with just your mouse and keyboard. 143 drones are created in the video below.
Peter Kirn writes:
"din is noise" is a newly-updated "tone board," making the rectangular plane of its screen into a field of sound you can transform. The video above just begins to show some of what it can do. Pixels can be tones, transformed onscreen. A resonator editor uses Bezier curves to edit sounds across octaves. Each resonator, in turn, can be edited with yet more Bezier curves. Put them together into the drone editor (the bit you see in the video), and you can create vast, sculpted soundscapes from series of rectangles dragged around between octaves.

It's all free, and it's all doable for your mouse – a Linux exclusive that might convince you to dual boot, or take a second look at that netbook.
Read more at Create Digital Music