Short links for January 12th, 2009
Some interesting things I found recently: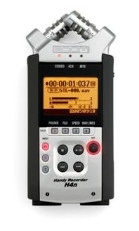 # First look at the Zoom H4N digital audio recorder
Brad Linder takes a look at the Zoom H4N, a digital pocket recorder.
I got a chance to stop by the Samson booth at CES yesterday and check out the new Zoom H4N digital audio recorder. This flash recorder is an upgraded version of the Zoom H4, but Zoom and Samson don't plan to phase out the older model. Rather, they'll now offer flash recorders in three price ranges, $199 for the Zoom H2, $249 to $299 for the Zoom H4, and $349 for the zoom H4N, which is a bit closer to being a pro audio device. The new recorder should begin shipping in February.
# Like a DIY NAMM: Handmade Music Preview, with Gestural Gadgets, Mannequin Parts, More
Peter Kirn posts details on some of the DIY projects that you can go check out for yourself at the upcoming Handmade Music Night, this thursday in NYC.
What's new in the world of music technological creations? It's stunning how much people are creating in their private workshops and bedrooms. I'm pleased to have the chance to share it virtually here, and Thursday night in person in New York City.
…
Here's a look at the projects. It's a bit like having an all-DIY, oddball music tech trade show – eat your heart out, NAMM show! (Warning: one slightly not-safe-for-work clip of a mannequin getting felt up.)
# Stanwood craftsman puts human touch on factory-made pianos – Darrell Fandrich is a micromaker of pianos, importing instruments from China and parts from Europe and the U.S. and rebuilding them as Fandrich & Sons pianos. A craftsman in an assembly-line world, Fandrich hopes that human touch can turn back the clock on pianos built by conveyor belt.
# Interview With Smule's Dr. Ge Wang (Maker of iPhone Ocarina)

Mark Mosher interviews Dr. Ge Wang, CTO and Co-founder of Smule.com.
Smule are the makers of extremely popular and innovative iPhone applications such as Sonic Lighter and Ocarina. Dr. Wang is also an assistant professor at Stanford University, at the Center for Computer Research in Music and Acoustics (CCRMA). He holds a PhD in Computer Science from Princeton University and a BS in Computer Science from Duke University. Ge is the creator and chief architect of the ChucK audio programming language, and the founding director of the Stanford Laptop Orchestra (SLOrk).

I asked a wide variety of questions in this interview – so – whether you are a musician, a developer, an iPhone user, or an entrepreneur, I hope you find this interview interesting and enlightening.
The interview is available in YouTube and mp3 formats.
# Music Thing: The end of Music Thing, for now. – I'm sure you've heard the news… Thanks Music Thing for all the great posts over the years.