Short links for January 15th, 2011
Some interesting things I found recently:
# The Father of Drum Machines and the Father of MIDI Talk About Design and the Tempest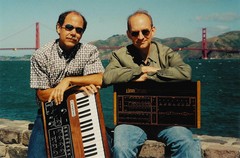 Peter Kirn talks to the people responsible for one of the most exciting things over at the Winter NAMM show, the Tempest drum machine – Roger Linn and Dave Smith.
In songwriting, there was Rodgers and Hart, Gilbert and Sullivan. In music gear design, it's hard not to assign a similar degree of expectation to the pairing of Dave Smith and Roger Linn.

Between them, these two designers have been a major part of what music technology is today. Dave Smith pioneered MIDI (even giving it its acronym), the first microprocessor-based instrument (the Prophet-5), the first programmable polyphonic synth, and other innovations at Sequential Circuits. Add to that landmarks in physical modeling research (at Yamaha) and the first PC soft synth. Roger Linn built the first programmable sampled-sound drum machine and with the LM-1, LinnDrum, Linn 9000, and his work on the MPC60 and MPC3000, introduced workflows and ideas in drum machines we now take for granted. It's not easy to overstate the contributions of either designer.
# Chernobyl 25th Anniversary Project « Ambientaria Records
For the 25th anniversary of the Chernobyl Accident, Ambientaria Records has gathered many Dark Ambient artists, including famous ones like Northaunt or Atomtrakt, for a Compilation project.
The album will be released on April 1st, 2011. It will be sold at a low price.
All the benefits shall be reversed to a Chernobyl Children International, is a non-profit organisation with United Nations NGO status, in order to help people suffering from Radiation Poisoning.
Check this Facebook page for details.
# Zimoun : Sound Sculptures & Installations
This is Compilation Video V2.2 (updated January 2011) of sound sculptures and installations by Swiss artist Zimoun. I can watch this for hours.
Zimoun's sound sculptures and installations are graceful, mechanized works of playful poetry, their structural simplicity opens like an industrial bloom to reveal a complex and intricate series of relationships, an ongoing interplay between the «artificial» and the «organic».

He is interested in the artistic research of simple and elegant systems to generate and study complex behaviours in sound and motion. He creates sound pieces from basic components, often using multiples of the same prepared mechanical elements to examine the creation and degeneration of patterns.
More on Zimoun here.
Cyberworm has another free sample pack out, featuring 61 Emu Plantet Phatt hit&stab sounds (wav+kontakt format, 24 bit, 44100 hz, stereo, 7 mb).