Short links for January 31st, 2011
Some interesting things I found recently:
# Touchscreen or Tangible? Use Both: A Practical, Affordable, Playable PC Rig with Usine
Peter Kirn writes:

Touchscreens? Good, old-fashioned faders, knobs, and pads? Why not just use what suits the job – especially when you can choose both on the cheap?

Nay-Seven shares some of his latest work with Usine, the brilliant, modular and touch-centric tool for Windows. It's a futuristic rig that's also down-to-earth. Touchscreen monitors can be had for around US$300 street, and the Akai LPD8 and Korg nanoKONTROL controllers each figure under a hundred bucks. Usine, the software, is a bargain for its depth at EUR120, and free and educational versions are available.
Nay-Seven: Here a work where i use the sequencer of Usine not to sequence audio or midi but patches : patches appear only when i need them , easy way to have only the controls you need on the screen, i also associate here works with faders and pads via personal patches for lpd8 and nano kontrol and the use of a touchscreen . Made with Usine ( sensomusic.com ) thanks also to Michael Ourednik for his great vst Argotlunar
# 365breaks.com – one year of drums
Here is my 365 days project. Every day I will compose/produce and upload here one drum break in CD quality format. It's simple – use it the way you want it. all files are copyrights free. This is not commercial project but if you like my work click donate button. have fun !
# John Olson: LIFE's Young Photographer at Work – Rock Stars and Their Parents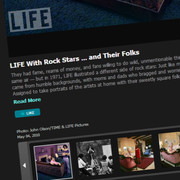 They had fame, reams of money, and fans willing to do wild, unmentionable things just to breathe the same air — but in 1971, LIFE illustrated a different side of rock stars: Just like most of us mere mortals, they came from humble backgrounds, with moms and dads who bragged and worried about them every day. Assigned to take portraits of the artists at home with their sweetly square folks, photographer John Olson traveled everywhere from the suburbs of London to Brooklyn to the San Francisco Bay Area, capturing in his work the love that bridged any cultural divide that may have existed between his subjects. Now, as a special treat for Mother's Day, LIFE.com brings back Olson's nostalgia-inducing photos — check out the awesome '70s decor! — and talks with the photographer himself about his memories of those shoots.
Includes pictures of Frank Zappa, The Jackson Five, Joe Cocker, and more.
# Waveformless: Free Sample Friday: Distorted Snare Drums
It's the weekend! To celebrate, here are 12 snare drum samples that have been distorted in various ways. Some of the distortion on these is so extreme that the transients are pretty much totally sheered off, so if a particular snare doesn't have the oomph you want, try layering it behind an undistorted snare. 12 stereo samples, 24-bits, 1.3 MB.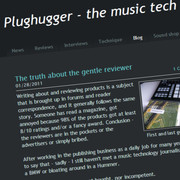 The truth about the gentle reviewer
Carl at Plughugger:
Writing about and reviewing products is a subject that is brought up in forums and reader correspondence, and it generally follows the same story. Someone has read a magazine, got annoyed because 98% of the products got at least 8/10 ratings and/or a fancy award. Conclusion – the reviewers are in the pockets or the advertisers or simply bribed.

After working in the publishing business as a daily job for many years, I have to say that – sadly – I still haven't met a music technology journalist who drives a BMW or bloating around in a Hummer.

Writers in this genre are not bought, nor incompetent.
Carl brings up some excellent points in this article.
I generally don't post any reviews of products I really don't like. I just can't be bothered to spend time on something really bad… Seems Tom at Waveformless is a different kind of reviewer… (not really of course, just pulling your leg, Tom)
# "Sounds from a Distant Outpost" Ableton Live Pack Experiment Update – New Compositions + 1000 Downloads and Counting
Mark Mosher writes:

On December 17th, 2010 I released the Sounds from a Distant Outpost FREE Live Pack.

Now, a little over a month later there have been over 1,000 downloads from http://www.outpostexperiment.com/!

The most exciting thing for me is that a two people have REALLY dug into the 12 instruments in the Live Pack and have taken the time to compose tracks using ONLY instruments from this pack.

I've attached their two songs plus a third I created below. It's pretty fantastic that while we didn't directly collaborate all the works are quite different yet sound they all sound like they are telling stories from the same universe.