Short links for January 7th, 2009
Some interesting things I found recently:
# Call for Works, Mark Your Calendar: Handmade Music, 1/15 in Brooklyn, Beyond – The regular series of DIY music tech parties continues in 2009.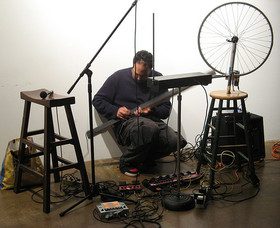 Peter Kirn writes:
Handmade Music is now a monthly affair at the wonderful 3rd Ward in Brooklyn, and increasingly, I want to work on adding an online, virtual component for the rest of the world to share. That means we'll be looking for new works to share. The setup is this: for people in-person, we're looking for installations, short performances, or projects you'd like to show off informally, science fair-style. Projects don't have to be completed finished – in fact, this is a great way to get feedback on something you're working on (and we certainly welcome repeat presentations as you make more progress, especially now that we're monthly). We also welcome visual and audiovisual projects; we'll have a projector onsite. (You'll need to share if you can't bring your own projector, but we can give you at least a few minutes of projection time.)
# DIYtar
Johan Larsby writes:
Which is the worlds sexiest and awesomest instrument? yes, the keytar. But what if you want special features on it and are to cheap to buy one of ebay?
That is what I am. Cheap and special, that is why I made my own.
# MIDImplant – MIDImplant is the smallest MIDI to Control Voltage (MIDI2CV) converter ever made, and it's dual channel…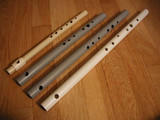 Instructables user Jnkyrdguy shows you how to make your own PCV flutes.
This flute design is a common one on the net, and for good reason. Not only is it simple to build, it's also relatively simple to learn and rewarding to play. It only took a month of on and of playing to be relatively proficient (meaning I could get a clean sound from the first two octaves without difficulty.) The flutes are keyed instruments and only play in one scale (without more complex fingerings) which is actually a plus when just noodling around since you can't easily hit a note outside of the major scale of that flutes key.