Short links for July 31st, 2008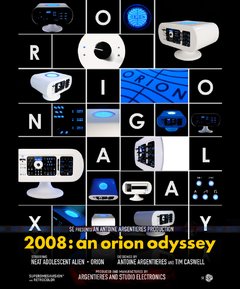 Some interesting things I found on July 31st, 2008:
# Omega Orion: analog synth as designed by Stanley Kubrick
Music Thing reports on the Orion Galaxy:
An Omega 8 – the $4,600, 38lb mother of all modern analog synths – in a great looking new skin.
Design is by boutique guitar amp builder Tim Caswell and someone called Antoine Argentieres.
More info on the Studio Electronics Orion Galaxy here.
# DJ Motion Capture – Made with the Vicon Motion Capture system housed in space 5, Culture Lab (Newcastle University, UK), the aim of the project was to magnify performance gestures to provide unique insights into how a DJ overcomes the fixity of recorded materials.
# Plastinkus DJ scratch pad – It's a scratch pad the size of a credit card. Plastinkus produces sounds like a real disc. There is a wide variety of color combinations available.
# Gakken Analog Synthesizer SX-150 – Battery-powered, stylus driven fun.
RJ, a Japanese MAKE magazine reader, posted a guide to create a MIDI interface for the Gakken SX-150 a few weeks ago (even before it was released…). More info here: SX-150 synth MIDI mod
# Yahoo Music to offer refunds, what about MSN? – Yahoo Music is offering refunds to anyone who bought songs from the service. Is it time for MSN Music follow Yahoo's lead?