Short links for July 3rd, 2008
Some interesting things I found on July 3rd, 2008:
# SuNSyNtH – DIY synth based on voice changer chip.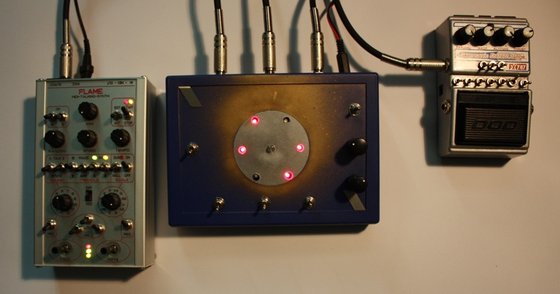 Flame+Sun+DoD(MoD) 32 switches, 12 knobs, 16 LED's, and 2 joysticks
From the website:
This small box can produce thousands variations of bleeps, noises, feedbacks, ring-mod sounds and drons. It can also process external signal – than it works like ring modulator, digitalizer or pitch shifter. It has 2 body contacts, pitch shifting knob, voltage knob and few switchers. In some mode it can be controlled as thermin, just by moving the hand behind. Also it has expression pedal input, audio in and audio out.
More images, a video, and sound clips here.
# scratchcontroller [MidiBox.org] – The aim of this project is to build a MIDI controller that can be used by scratch DJs. This can be broken down into two main requirements: A very high-resolution, accurate jog wheel and a smooth, reliable, high quality crossfader with curve control.
# SimplyNoise.com – The best free white noise generator on the Internet. – Slide the orb, Find comfort zone, Enjoy auditory zen!
# Adieu, XP; How Vista SP1 is Doing, and Why This OS Generation Has Been So Tough – Peter Kirn takes a good look at the current state of Vista for making music.
# Matrixsynth: FLAME "ECHOMETER" and FLAME "SIX-IN-A-ROW" – A Midi loop sequencer and a Grid-Sequencer & Midi-Controller.
# Heartcode – Free music download from net label iimusic featuring tracks by Temp Sound Solutions, Alex Mauer, Disasterpeace, Animal Style, Phlogiston, Shnabubula, Xoc, and Norrin Radd.
# genoQs Machines – Nemo (now available) – Nemo is a high-end MIDI step sequencer, adding portability to the highly acclaimed functionality and user friendliness of Octopus. It is in many ways an Octopus in disguise, and one that feels equally well in a backpack or on your lap!
# Rovert Moog interview – May 1985 – TECHtalk interview with Robert Moog.