Short links for July 7th, 2010
Some interesting things I found recently:
# Prince – world exclusive interview: Peter Willis goes inside the star's secret world
I'm sure you've read about this already since it's all over the place but if not, check this:
"You must come and listen to the album," he says. "I hope you like it. It's great that it will be free to readers of your newspaper. I really believe in finding new ways to distribute my music."

He explains that he decided the album will be released in CD format only in the Mirror. There'll be no downloads anywhere in the world because of his ongoing battles against internet abuses.

Unlike most other rock stars, he has banned YouTube and iTunes from using any of his music and has even closed down his own official website.

Prince will not sell his new album on the internet, because… uh.. it's completely over
He says: "The internet's completely over. I don't see why I should give my new music to iTunes or anyone else. They won't pay me an advance for it and then they get angry when they can't get it.

"The internet's like MTV. At one time MTV was hip and suddenly it became outdated. Anyway, all these computers and digital gadgets are no good.

"They just fill your head with numbers and that can't be good for you."
It seems Prince is either very clever or not quite with it…
# Free Sample Shootout #3: Acoustic, Electric And Toy Pianos
The bedroom producers blog is back with another great round-up, this time it's all about pianos:
I have to admit I wasn't always a huge fan of acoustic pianos. Even though my family used to own a piano when I was a kid, I almost never played it, rocking my broken 3-string guitar instead. Quite frankly, I simply found the piano to be a very boring instrument.

Now, was I abducted by the aliens, or did something heavy fall on my head, I don't remember, all I know is that something really weird must have happened because I love the sound of piano now. The problem is, though, that I don't own my old piano anymore, and I can only dream about having an electric one like a Wurli or Rhodes. But with all the kind people sharing the samples of their instruments online for free, can we still consider not owning an instrument to be a problem?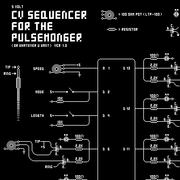 # animal-style.com PULSE SEQUENCER
Joey Mariano writes:
This a CV sequencer i built (with an arduino microcontroller). It Sequences the pulse width of my guitar through the Control Voltage input jack on the Pulsemonger pedal.

I got the idea from tracking (composing) in famitracker, LSDJ and Goattracker. When you compose for the NES or the Gameboy, there are tons of effects you can choose from to make square waves more complex and interesting sounding – i always wanted to apply those effects to my guitar. So, once i saw that the Pulsemonger guitar pedal had a CV input for the pulsewidth i had to buy it. Sequencing the pulsewidth is one of the fundamental sounds of chiptune music – the ability to recreate this sound through my guitar was way too exciting.