Short links for June 15th, 2009
Some interesting things I found recently: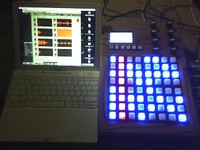 Lennon Luks writes:
While I was earning my BS at Western Carolina University, one of the requirements was a Senior Design Project. For this project, I designed and constructed a MIDI controller/sequencer. I chose this as a project because I am a musician and I am very much interested in electronic music and electronic musical instruments/controllers. This project was ideal for me, as it allowed me to combine my passions for engineering and music.
# More samples — the hallway session samples
Chaircrusher has posted another batch of samples. Sounds include a screwdriver, steel thermos, spraypaint can, rubbermaid shelves, sheetrock wall, stair rail, wooden legs that used to hold up kitchen island, and some sniffing.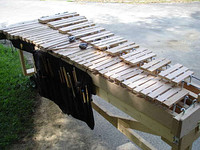 RocketScientist @ Instructables:
I am a mallet percussionist who loves the marimba. About four years ago I had a problem. Though I loved percussion, I had no way of practicing at home. There were cheap options. I could have bought a bell kit. But I hate the sounds they make. I wanted a very large five octave marimba but didn't have the money to simply purchase one (7000+ dollars). So I decided against all common sense I would build one.
# TrackTeam Audio Monomulator – Monomulator for APC40 & pK – Monome emulator for the Akai APC40 and Korg PadKONTROL. Free download, includes Max/MSP source files.
# Warp20
Warp commemorates its 20th anniversary with a deluxe special-edition of music and art (Box Set).

The package features new songs, older previously unreleased material from Warp artists, tracks selected as some of his personal favorites by co-founder Steve Beckett and the top ten pieces voted for by Warp fans on Warp20.net. It also includes a beautifully produced book showcasing the label's rich design history, along with an exclusive hour-long mix and a locked-groove vinyl set.
# OpenChord.org V1 – Build a Real Guitar Guitar Hero/Rock Band Controller
An Instructable for using a real guitar as your Guitar Hero controller.
We all love Guitar Hero and Rock Band. We also know that we'll never learn how to actually play guitar playing these games. But what if we could at least build a Guitar Hero controller that let us use a real guitar? That's what we here at OpenChord.org are trying to do.