Short links for June 1st, 2010
Some interesting things I found recently:
# Craftsman Music Experiment – Kutiman takes on a bunch of Craftsman tools to create music.
"What you are watching is built entirely from the sounds of Craftsman tools mixed and edited by Kutiman. No musical instruments were used."
# 107 Free Glitch/Lo-Fi percussion hits.
Dan303 is back with another collection of free samples, some Glitch/Lo-Fi percussion hits this time around.
This pack contains a total of 107 individual Percussion hits. The samples were made using hardware/software synthesizers and found sound. Most hits were further mangled using various effects processors. Suitable for many types of music genres including; Glitch, Lo-Fi, Ambient, Industrial, EBM, minimal, IDM and many more.
107 high quality Individual drum hits
Royalty free
Can be easily loaded directly into your sampler/sequencer of choice
2 NN-XT Patches for use in Propellerheads Reason
2 ReDrum Patches for use in Propellerheads Reason
# CC6 Studio, various freeware VST effect plug-ins for Windows.
I'm a audio and video performer from montreal. the CC6studio is my hidden spot where I blog my inspiration and audio performance.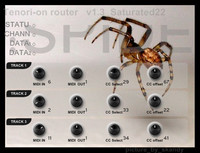 Evans also posted SPIDER 1.3, a midi router for TENORI-ON (standalone Windows application).
SPIDER converts midi notes to CC parameters.
Currently you can assign:
Midi in ( track to convert from tenori-on)
Midi out ( to the synth target)
Control Change (what CC parameter to control)
Control Change offset
More information: CC6 Studio / via waka_x @ Twitter