Short links for June 26th, 2008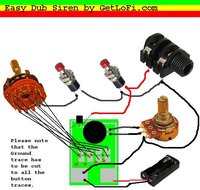 Some interesting things I found on June 26th, 2008:
# How to Make an Easy Dub Siren from a Circuit Bent Keychain – GetLoFi has instructions on how to build your own dub siren box using an inexpensive sound effects keychain and a few other simple parts.
The total for parts should be under $20 and possibly even cheaper if you are resourceful and can strip components from discarded electronics, etc.
# Sonic picnic boxes – The sonic picnic set is a low tech modular system. Connections are made as needed using crocodile clips.
# "Morpher" circuit bend – Circuit bent "voice morpher" megaphone packed into the case of a V-750 model 5 dosimeter charger. The lamp within the power button was modified with an LED to replace the incandescent lamp.
# dsSynth – Play the Nintendo DS like you would with any hardware synthesizer/sampler. The software allows the user to draw in a wave form on the touch screen, use one of the embedded sounds, or load one of their own samples off of their flash memory card.
# remain calm » ds music apps – the nintendo ds is an excellent platform for homebrew audio software – here's an (incomplete) list of some of the excellent sound toys that are available for the platform.
# repeaterDS at glitchDS – a music application that allows you to "play" a sample by drawing on the DS screen. The vertical axis controls repeat length. The horizontal axis controls the playback offset into the sample.