Short links for June 27th, 2008
Some interesting things I found on June 27th, 2008:
# MACHINECOLLECTIVE.ORG – Machinecollective is specialized in design and production of custom control surfaces and kits for physical computing.

Machinecollective custom control surfaces
From the website:
In spite of all the smart, multifunctional and state-of-the-art controllers that are commercially available today, there has always been demand for custom physical interfaces and specialized controllers. That's why we have developed a modular prototyping platform. The prototyping modules are aimed at researchers, artists, musicians, circuitbenders and performers who want to use high quality controls without spending too much time on manufacturing or trying to find a suitable enclosure.
Machinecollective is currently developing modules with components such as potentiometers, slide potentiometers, buttongrids, toggle switches, lcd's, FSR/LDR's, velocity sensitive pads, touchscreens, etc. You can sign up to get notified when the full website is up.
# Ohm Force antidote for cell phone popcorn!!!
Have you seen those videos on YouTube where cell phone radiation turns corn into popcorn? Ohm Force to the rescue!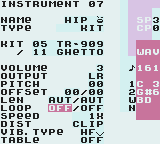 # Little Sound Dj – Transform a plain Game Boy/Game Boy Color into a full-fledged music workstation.
Little Sound Dj features
Sequencer – designed to leave all the musical possibilities of the Gameboy in the hands of the user.
Sound – custom waveforms can be created by free-hand drawing, or by using a subtractive synthesizer with resonant filters. For extra versatility, Little Sound Dj also contains a quite powerful arpeggiator, which possibilities go far beyond the classic C64-style chords.
Samples – a set of 59 phonems for programmable speech. Besides that, it also features drum kits sampled from machines TR-606, TR-707, TR-727, TR-808, TR-909, CR-78, CR-8000, KR-55, DR-55, DR-110, DMX, Drumulator, RhythmAce, TOM and LinnDrum.
Synchronization – use a link cable to sync two Game Boys; great for party fun or for added polyphony. You can sync LSDJ with Nanoloop, and MIDI sync is possible too (build your own LSDj Midi Interface).
Also on this website: Game Boy Color Prosound Mod, adding a new sound output that takes its sound directly from the volume potentiometer, bypassing some sound-garbling electronics close to the headphone output.
# MAKE: Blog: The WP-20 mini-synth – The "WP-20 Mini-Synth Sound Effects Synthesizer" is probably the best project out there for getting started in Synth-DIY proper. It packs all the basic elements of modular synth design including a control voltage input into a relatively compact circuit.