Short links for June 5th, 2008
Some interesting things I found on June 5th, 2008:
# CellularRecombomat: patch-bay circuit bent cellular automata video synth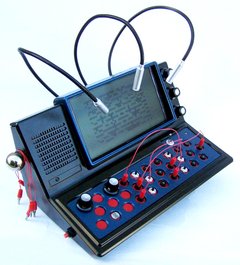 Tom Koch aka Univac writes:
My main idea with this gadget was to have optical control over the three main basic cellular automata (CA) controls (which are controlled by the pots on the right side, from the top): algorithm (the algorithm used to generate the type of cell which also controls what tone is generated based on the object created), width across the grid, and speed of cellular generation, each line generated one at a time from top to bottom.
# Drum Master – DIY Electronic Drum Brain – The Drum Master system is actually comprised of two parts:
The hardware brain module (containing the Arduino microcontroller and a collection of circuits to assist in obtaining the sensor information) is called the Drum Master. This is connected via USB (technically, a virtual serial port over USB) to a computer,
which is running the Drum Slave software, written in Python.
When a sensor is hit, the Drum Master converts the signal to a digital value, and sends this value (and the port on which the sensor was detected) over the serial port. The Drum Slave program listens for this, and plays the corresponding audio sample.
# Underwater Microphone (Hydrophone) – Construct a inexpensive hydrophone out of things laying around your house.
action_owl writes:
I decided to put up this instructable because (to my surprise) no one has a hydrophone instructable up yet. I made mine using a mixture of other people's hydrophone creations that I found through a google search and a bit of ingenuity.
# Circuit Bent | Modified Fab Echo – Unlocking the Fab Echo's delay potential. Add a Delay Rate knob (speed of repeats), increase the mix knob to full wetness, and to give it full feedback (which literally makes it feedback). Modded LFO's to the delay circuit that cause strange swirly sounds, and pitch bending weirdness.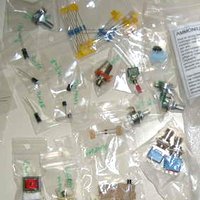 # Create Your Own Guitar Effects Pedal – This is a general instructable about how to build your own pedal clones.
It's not hard to do, just take care that you read up on some info beforehand. There's numerous schematics and layouts on tonepad.
If it's the first build you're doing it's best to start with the easier stuff, like a simple fuzz or overdrive.
David Battino writes:
At present, AudioCubes shine as a cool-looking device for experimentation and live performance. Only you can say whether that novelty justifies the boutique price; the results will depend on your creativity.
# Isidore, the modular robot with CV lights – "My friend Louis shot this video while I was testing the voltage controlled lights with some 16 steps sequence MIDI running in cubase, then converted to CV by Doepfer MCV24. All sounds by Doepfer A100 modular synth."
# How to Deal with MIDI Clock Signals in Arduino – Sebastian Tomczak shares some generic Arduino skeleton code that could be used to synchronise many different types of things to MIDI clock (and therefore ProTools, Ableton Live etc — any type of host sequencer).