Short links for June 9th, 2008
Some interesting things I found on June 9th, 2008: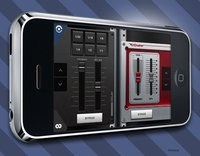 The first music creation studio for the iPhone and iPod Touch
BeatMaker introduces a new generation of mobile instruments and music creation software. Inspired by hardware beatboxes, loop samplers and software sequencers, it combines them to turn the iPod into a unique, inspirational software instrument.
# Playing the Building | An Installation by David Byrne – a 9,000-square-foot, interactive, site-specific installation by renowned artist David Byrne. The artist transforms the interior of the landmark Battery Maritime Building in Lower Manhattan into a massive sound sculpture that all visitors are invited to sit and "play."
# Radiohead Nude remix on Sinclair ZX Spectrum – A remix of Radiohead's Nude played by a Sinclair ZX Spectrum computer, Epson dot matrix printer, HP Scanjet scanner, and an array of hard drives.
# Roland TB-303 # Roland TR-808 # Roland TR-909 – Pattern Library – Erik Zimmermann's "very happy" acid website
# Nine Inch Nails – New band, new tour sampler – I am proud to announce the final personnel lineup of nine inch nails for the foreseeable future. We've added, we've subtracted and we've wound up with unquestionably the strongest lineup I've EVER had.
# Music Thing: Chimera BC16 mini synth review – Tom Whitwell shares what he's thinking after a week with the Chimera BC16.
# A short review of the Tascam DR-1 – Brad Linder's friend and colleague Eugene Sonn recently purchased a Tascam DR-1 handheld digital audio recorder. He wanted to put it through the paces before deciding whether this low-cost recorder was a keeper.
# The Gerbil's Revenge – Sasha Frere-Jones on Auto-Tune
Sacha writes:
No one has used Auto-Tune's zero speed setting more consistently and successfully than the R. & B. singer T-Pain. Born Faheem Najm, in Tallahassee, he has become such a common guest on pop records that in a single week last year he was featured on four singles in the top ten of the Billboard Hot 100 chart, including the No. 1 song, Chris Brown's "Kiss Kiss." In the same way that the dry, flat drum sounds in Fleetwood Mac's "Rumours" will forever say "mid-seventies," T-Pain and Auto-Tune will forever remind people of the late aughts.