Short links for March 19th, 2010
Some interesting things I found recently:
# Electric Independence: Vince Clarke and the Temple of Synth
The new episode of Electric Independence documents a visit to Vince Clarke's incredible home studio that features more analog gear than, well, probably anyone we've ever encountered. The founding member of Depeche Mode, Yazoo, and Erasure is enjoying the country life in Maine but still cranks out the jams, or as he likes to put it "making something from nothing."
# Native Instruments wants you!
Fancy a job with Native Instruments?
Thanks to the support of our valued customers, Native Instruments continues to grow and expand. If you want to help shape the Future of Sound, we are keen to hear from you! We currently have around 20 vacancies at our offices in Berlin and LA!
# Micro Tutorial 20 – ReWire with Logic (YouTube)
How to set up a session with Logic as the ReWire host for Reason & Record.
We'll look at how to set up ReWire inputs in Logic and how to patch separate audio outputs in Record.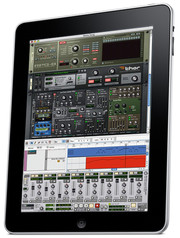 # Propellerhead CEO discusses iPad music software
From MusicRadar:
Propellerhead Software's Reason is an app that many (not least MusicRadar) are touting as a perfect fit for Apple's iPad, and it seems that a port to the new tablet may not be beyond the realms of possibility.

Our sister magazine Computer Music was recently in touch with Propellerhead Software's CEO Ernst Nathorst-Böös, and when asked about the potential of the iPad in a music-making context, he said: "From a technical standpoint, the iPad has very similar capabilities to the iPhone.

"We have yet to see if the difference in form factor between the two is a big enough differentiator to turn the iPad into something different. I suspect it is."

While Nathorst-Böös was unwilling to be drawn on whether Propellerhead will develop iPad apps, he did say: "the iPad is at least as powerful a computer as the ones we started making software for back in the 90s. And that's pretty exciting!"