Short links for March 26th, 2008
Some interesting things I bookmarked on del.icio.us on March 26th, 2008:
Beamer Arduino – Scott Hansen posts a video of his friend Beamer's Arduino Sequencer prototype.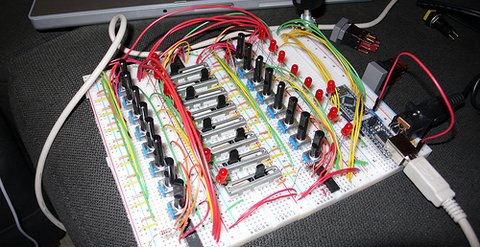 From
Beamer
's photoset @
Flickr
.
3 dimensional photo-realistic paper portraits and sculptures by Bert Simons – These are papercraft sculptures made in the same way as the familiar papercraft houses and animals.
All-Arcade Ableton Live Controller, DIY Hardware by The Prevolt – All arcade hardware, aluminum top panel by FPE, and a nice wood case courtesy of my man Michael Yates. It uses all key commands through a custom driver to handle playback, effects, editing, warping, UI, mouse clicks, scroll messages, and more.
Advertising Vs Reality – A Product Comparison Project – Food never really looks like it does on the box it came in, does it?