Short links for March 26th, 2010
Some interesting things I found recently:
# Tone Garden | Stephanie McCarty – Interactive toy project for Core Design Studio IV. Designed in collaboration with Andrew Siu.
Interactive Musical Device that produces tones and loops. Sound can be manipulated by physically moving and controlling certain elements of the device. IR sensors detect the distances of propeller blades triggering a corresponding tone to emit from the device.
# Sound Builders: Peaking Lights Are Teasing Lo-Fi Musical …
Matt at Motherboard.TV wrote in to let us know about Sound Builders:
We have a brand spanking new show called Sound Builders where sound geeks create instruments from just about anything that will make noise and, well, to but it simply, build sound. The first episode is a visit to the home of Madison, WI duo Peaking Lights. During their time making bleeps and bloops and washes of noise, they've done a fair share of turning trash into sonic treasure and have had some literally shocking moments of discovery.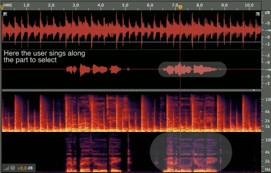 # Paris Smaragdis Audio Demos – User-assisted audio selection
Paris Smaragdis writes:
Audio editors are pretty lousy, you can't use a graphical interface to do anything useful when editing sound mixtures.

In this demo we present an audio-driven interface which allows a user to vocalize the sound they want to select and an automatic process matches that input to the most appropriate sound. Once the selection is done then we can manipulate sounds independently and then throw them back in the mix. This ties in a lot of work on audio separation shown in a later section.
Check the audio demos on the page, pretty brilliant stuff!
# Dan303: Korg Microkorg samples [NNXT, WAV]
Dan has released another pack of free samples:
This pack contains 7 multi sampled synthesiser patches and one pack of EFX taken from the Korg Microkorg synthesiser. Each patch has been pre-loaded into reasons NNXT sampler and ready to play. All sounds were made from scratch. [No factory presets are used]
The multi sample files [.WAV] are also included so that the sounds can be loaded up into a sampler your own choice.
The sample pack is available to download (and share) at no cost.
# Beat Feet, a pair of wireless shoes and hat that allow a solo performer to orchestrate audio loops in real time using dynamic, unexpected sounds.
Arturo Vidich writes:
This is the demo video we made for Beat Feet. I wish we had good video from the ITP Winter Show because after dancing in those shoes for 9+ hours I finally understood how to use them. www.beat-feet.net
# Pro Music Apps, new website a small team of Australian-based journalists, musicians and audio professionals that share a common interest in the growing number of quality iPhone apps designed for professional audio and music uses.
Promusicapps.com was conceived out of respect for the amazing pro audio and music apps the many talented software developers around the world are creating, as well as our passion for enjoying these incredible apps. Until now there has been a lack of unified information about this exciting area of app development, so it was decided (amongst several friends) to create a one-stop online source where developers and users can all come to share and learn about the latest developments in pro music and audio apps.