Short links for March 2nd, 2008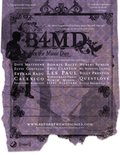 Some interesting things I bookmarked on del.icio.us on March 2nd, 2008:
Before the Music Dies – Narrated by Academy Award Winner Forest Whitaker, BEFORE THE MUSIC DIES is an unsettling and inspiring look at today's popular music industry.
pi10k – Converting the first 10,000 digits of pi into a musical sequence.
Bat's powerful lift is illuminated by fog – Technique shows how bats and insects share the secret of slow flight. Bats are awesome!