Short links for March 2nd, 2009
Some interesting things I found recently: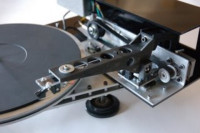 # The Oil Rig Turntable: The Turntable
Paulo Rebordão writes:
After coming across some DIY efforts at building turntables, I too decided to give it a try… For the turntable, I went for an all aluminium construction and a decidedly "mechanical" look.
# little-scale: SP0256-AL2 Sample Pack
Sebastian offers 59 samples (16 bit, 44.1KHz mono .wav files) that have been recorded directly from an SP0256-AL2 chip.
These represent all 59 sounded allophones that the SP0256-AL2 is capable of producing via its internal ROM. The included sounds are named by the allophone in terms of each audio file.

This project can be used to make music with small dc electro motors, controled by a small keyboard.
Gijs writes:
A project i have been working on for to long..
In it i use a keyboard to control DC electronic motors to make music. There there are endless possibilitys.
# Tiny Subversions: First demo, MeggySynth – Darius Kazemi is writing a music synthesizer program for the Meggy Jr. RGB kit: This is my first run of a little live performance sound and video device I'm calling MeggySynth. It's definitely just a proof of concept, I'm hoping to make things more impressive all around. I'll be using the A/B buttons for pitch shifting, too.
# Fretless Fader Midi Prototype with Vestax Controller One
This is the first public view of the Fretless Fader system I designed for use with the Controller One (posted February 22, 2009). With this you can cut and change notes through 2 octaves without taking your hands away from the vinyl and fader.
Via CDM
# Max 5.0.6 – Lots of bug fixes and new features.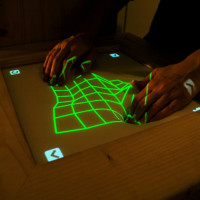 # DIS.PLAY » Blog Archive » Final documentation: Impress
Impress is the deliverance of the touch screen from its technical stiffness, coldness and rigidity. It breaks the distance in the relationship of human and technology, because it is not any longer the user which is subjected to technology, but in this case the display itself has to cave in to the human. Impress is a chance of approach of user and technology, above all, from technology.

It is a matter of a flexible display consisting of foam and force sensors which is deformable and feels pleasantly soft. Impress works with the parameters position and time like other touch screens as well, but in addition to that, it reacts, above all, on the intensity of pressure.