Short links for March 5th, 2008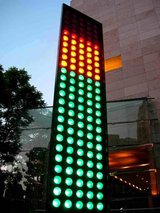 Some interesting things I bookmarked on del.icio.us on March 5th, 2008:
((( VOLUMEN ))) – a giant graphic equalizer built by Argentinian artist Sergio Avello. It relays the ambient urban noise levels around the Redgaleria in Buenos Aires.
Scene.org 2008 Awards – Nominees – The demo scene is still going strong.
Using Delays for 3D Sound Placement – Our ears and brain are sensitive to the differences in sound arrival time, and use the information (along with other cues, like volume) to judge where a sound source is located in the space around us.