Short links for May 28th, 2010
Some interesting things I found recently:
# Teenage Engineering OP-1 Synthesizer Exclusive Demo and Interview
A closer look at the OP-1 portable synthesizer and controller (no release date yet though).
Last week, Ihavesynth.com got the chance to meet up with Teenage Engineering to get a closer look at the OP-1 synthesizer/sampler/controller/you-name-it. Teenage Engineering revealed their eye-catching OP-1 at Musikmesse in 2009 and the hype around the synthesizer has been massive, even though it is not yet released. We have posted about the OP-1 before and offcourse we are as curious about the OP-1 as the rest of the world seems to be.

Teenage Engineering is a great gang of 7 tech guys in a white painted garage filled with wonderful stuff like computers, synthesizers, all sorts of tech gear, an electronics shop, 3D printers, bikes, mopeds and a little dog which you can hear in the interview. The Teenage Engineering crew has experience from a lot of different areas, like the gaming industry, programming, electronic music – and it all comes together in their cozy garage.My mate Bjorn had a chat with David at Teenage Engineering, check it out in this clip.
# The Swinger « Music Machinery
Paul Lamere @ Music Machinery writes:
One of my favorite hacks at last weekend's Music Hack Day is Tristan's Swinger. The Swinger is a bit of python code that takes any song and makes it swing. It does this be taking each beat and time-stretching the first half of each beat while time-shrinking the second half. It has quite a magical effect.
via CDM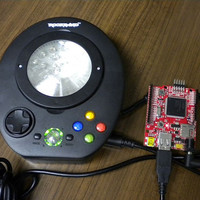 # RockBandStageKit
This project demonstrates how to use the Xbox Rock Band Stage Kit with Micro framework using GHI's USB Host feature….no Xbox is necessary!

This kit uses USB and it has special requests to set the strobe speed, LEDs and fog. But no worries! This still works with GHI NETMF devices. We use USB host on a low level using USBH Raw Device. This allows us to control the Stage kit as we like! It is actually easy if you know how USB works.
# Free Sample Friday: SQ-80 Ganks
Tom Shear is back with another pack of free samples:
Today's selection is what used to be one of my favorite bass sounds I'd programmed for my old SQ-80 back in the day. It's very digital sounding and can add a nice bite to other bass sounds when layered. (The name of the patch was inspired by the liner notes of a Shriekback album that listed not only the gear used, but the name of the synth patches they used which pleased the hell out of me for some reason…)
The download includes 8 mono 24-bit/44.1k WAV samples of the C and G keys for 4 octaves.
# Diego Stocco "Experibass Suite"
Diego Stocco @ Soundcloud: In the past months I've been working on some new tracks with my Experibass. Since I built it, I discovered many new ways of interacting with it
Take a look at this gallery to know more about the Experibass: http://www.behance.net/Gallery/Experibass/312989
# New Roland JX8p Patches (Sysex Dump)
Free jX8p patches by Chip Collection:
32 New JX-8P Patches. These are my favourite patches of all time. It contains leads, basses, hoovers, strings and chimes. You can see many of these demoed in my youtube videos. Enjoy
# PIXEL – A pixel art documentary
An 11 minute documentary exploring the merits and impact of pixel art, animation and chiptune music.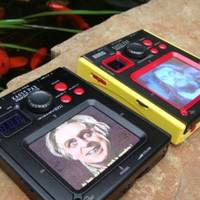 # Kaoss Pad Pitch Modification w/Internal Controls
GetLoFi reports:
David M. just sent us useful information on how to add internal pitch controls for both Kaossilator and the Kaoss Pad, below are his words of wisdom…

After reading about the GetLoFi Tutorial for 1799 oscillator circuit mod on the KORG Mini KP/KO and with a few of the LTC Modules on hand I decided to give it a go on a brand new Kaossilator. The conversion took about 45 minutes to do, but the results just blew me away. A real transformer for this instrument.
The Creators Project event series—a roving global celebration—launches this summer on June 26, when The Creators rolls into 80,000-square-feet of display and performance space honeycombed throughout the legendary Milk Studios in New York's Meatpacking District.
The event is going to be a groundbreaking combination of interactive art and installations, panels, workshops, screenings, and live performances. As much as The Creators Project is a digital archive of our digital world, it is also a testament to the enduring appeal of the Real. Many of the artists within the program explore the way that digitally manipulated images, sounds, and motions converge in real time, in real spaces.