Short links for May 30th, 2011
Some interesting things I found recently:
# Hey You! What Song are you Listening to?
Asking random New Yorkers with headphones on what song they are listening to.
OUTLOUD.FM lets you create rooms where you can chat and listen to music with your friends with a real time collaborative playlist. Just sign in, pick a room name, and start uploading music!
# STACKED by Royal Sapien – 300+ tracks mixed into one hour of electronic music soundtrack

# End of Train Device, New Album from Your Editor, and an Experiment in Releasing Music
Peter Kirn writes:
Yes, I create digital music, too. One of the things I've loved about CDM is the chance to share music making, from the construction of the tools to the production of performances and recordings. If that's all we ever get out of music – getting to share with someone else – that's already more than enough for me.

This week I've released my own End of Train Device, a full-length ambient / leftfield electronic album.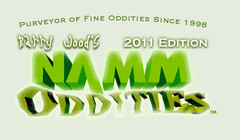 Barry Wood is back with another selection of interesting products showcased at the NAMM show.
Welcome to the 2011 edition of the NAMM Oddities …finally

This year the show went smoothly but due to a perfect storm created by of a pile of work (the paying variety), local politics, and the writing of my first now published book, the Oddities were nearly 4 months late.

There was no shortage of Oddities-worthy items at the show this year. Even though this is probably the last NAMM report to go online, I'm certain that there are a number of products that will see their press debut on these pages.
Still not satisfied with the bass of the average chair? If so, check out this insane 1000 Watt Subwoofer Chair from Canadian designer John Greg Ball.
# Vinyl Poised to Make Further Gains; Time To Ask, "What Does it All Mean"?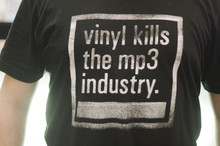 At first, it seemed like it might be just a blip: amidst generally declining sales of physical music, down sharply from their 1990s boom, vinyl sales were trending up. The reversal started with a slight uptick in 2007 – already noticeable as the CD had begun its collapse. That slight uptick has turned into a small boom. From a tiny 300,000 units in US sales in 1993, the vinyl record is projected to do some 3.6 million units in sales.
# Dan303: New Sample Pack 'Toys'
Dan has posted another free sample pack: "The sounds in this sample pack are made to replicate the sound of old broken children's toys."
# The Radiumphonic Workshop « Radium Audio Labs
Radium is inviting you to have a look behind the scenes at the Radiumphonic Workshop. In the video below we delve under the bonnet of Radium to have a look at what makes it all tick – the sound lab operated by the fine team at Radium. It demonstrates a rare glimpse of how we work, as well as showing off some of the machines, technology, people and creative approaches we use to manipulate sound!
# Design to Address Visual Performance in Music, Explained by a Giant Robot Face
Computing technology is an inherently disruptive thing, wonderfully so. It solves problems you didn't know you had. It creates problems, then creates new problems in even trying to understand those problems. Simply using a computer is a kind of design statement.

You've seen questions about what happens with computer performance and audience interaction. But, in AMALGAM, design student Jacob Lysgaard asks those questions, and proposes solutions, in a new way: with a giant talking robot face.