Short links for November 13th, 2009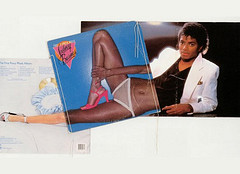 Some interesting things I found recently:
# Even retro record covers can be used to create something amazing
There are those who will throw away their old record covers but there are those that will use them to create some mind blowing artistic stuff.

One of them is definitely Christian Marclay, a New York visual artist, DJ and composer who used record covers of Michael Jackson , Doors, Donna Summer, David Bowie and many others for this piece of art. The relationship of sound, vision, music, art and performance is the focus of his work.
More on Christian Marclay
# Waveformless: Free Sample Friday: Pro One Synthetic Percussion
More samples at Tom Shear's Waveformless blog:

It's hard to believe another weekend is upon us, but it is, so here are some more free samples to get your weekend off to a good start. This time, it's a set of 21 24-bit synthetic percussion sounds I made on my Sequential Pro One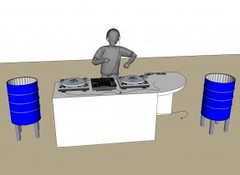 # Two Garbage Cans and a Microphone
Rock the party with this DIY sound system.
Peter Kirn writes:

Say you're an up-and-coming crew with a turntable and some mics. You've got a gig this Friday at the middle school gym (the janitor has been bribed appropriately) and the boys on the corner have been passing out your flyers to all the lovely ladies. Everything's set, except you heard that Kool Herc is coming to battle. Herc and his mighty sound system schooled you last go-round, so you know you need something fresh to rock the bodies proper. Your DIY solution? The 55-gallon drum sound system.
# Tape Pianos Sample Pack
The Control Centre has posted a sample pack features 38 piano samples in 44k 16 bit mono format.
This samplepack contains 3 pianos I recorded to tape in 1998. A Baby Grand, a Fender Rhodes and an old upright a friend of mine had in her back kitchen. I recorded the pianos using a Tascam 244 Cassette Portastudio and a Shure SM58 microphone. The Fender Rhodes was recorded to tape directly from it's line output. The recordings were then sampled using a Yamaha A3000 sampler.

I recently exported the samples from the A3000 sampler to my laptop computer via floppy disk, and then imported them into Ableton Live's Sampler. To save each piano into your Live Library, load the project, then save each sampler as a preset inside Sampler's preset browser. Live will copy the samples to your library automatically.

If you don't have Live 8 and Sampler, you can still use the samples to recreate these pianos in your choice of software.
Kontakt, Wusikstation, and Mutools available here
# The Octapult (YouTube)
The "Octapult" is a kinetic sculpture designed and built on commission by Bradley N. Litwin of Philadelphia, PA. With 8 synchronized catapults, 160 plastic balls per minute are launched, caught, and recirculated. Made mostly of wood, the work is ~36 inches in diameter. On permanent display in the lobby of Lower Merion Elementary School, Merion Station, PA. Also a performing jazz musician, more of Litwin's work may be seen and heard at www.bradlitwin.com.
XEROWorld is the next phase in the evolution of online arts & entertainment — a totally new and unique web destination that seamlessly integrates social networking, interactive events, magazine style-news, and online malls.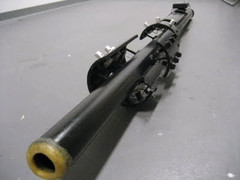 # Yaktronix: Electronically Modified Didgeridoo
Kyle Evans modified a didgeridoo to experiment in the combination of the organic sound qualities of a didgeridoo with the advanced signal processing capabilities of modern computer programming and sound synthesis.
He writes:

This custom built didgeridoo features externally mounted modules that allow the performer to process and manipulate the sound of the instrument in real time. All control data is transmitted wirelessly via blue tooth and is controlling several audio processes created in a custom-built software environment.
# Review: Roger Linn Design AdrenaLinn Sync
Tom Shear reviews AdrenaLinn Sync, a new software plug-in from Roger Linn Design that provides the same unique beat-synced filter modulation and sequencing effects of our AdrenaLinn III guitar pedal.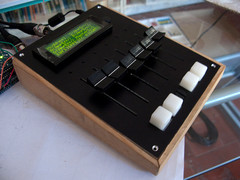 # DIY Arduino-based MIDI controller
Cyrille Arndt's DIY, standalone Arduino-based, MIDI control surface work-in-progress.
Current features:
Heartbeat
On-the-fly generated labels from csv files.
Limiters (with capability of inversing the range).
Every function of the faders and pads is customisable from the desktop software.
Different states for the pads (currently on/off or moment).
In the desktop software: Selecting the MIDI port (for example for routing over another software).
MIDI channel.
6 presets (more possible).
RGB pads can be controlled from software like Live to be switched on/off or blinking.
Presets also concern the pads.
Auto-switch to generated labels if the software is running.
New! The buttons above the faders can have different functions : Notes (triggering clip for example), quick change of the function of the fader, preset switching.
New! Presets also concern the limiters.
New! The bottom buttons can change the preset or the bank (useful in Ableton Live).
New! USB port for adding USB connectivity: allows to program it easily and use USB instead of MIDI in cases where it's necessary.
# Live Music Makers Ask: How Can We Get in Sync?
Peter Kirn writes:

Synchronization is, by definition, a tough thing to do. But musical engineering is replete with challenges; it's no longer acceptable to simply say "live with it" and walk away. It seems we need both better shared knowledge about what sync is how to make it work, and better engineering solutions on the software and protocols side to support the way users want to work. And yes, we need a new sync standard that goes beyond what's presently available in MIDI alone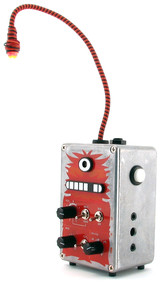 # Bleep Labs » Thingamagoop 2 is here!
New in Thingamagoop 2:
Analog VCO controlled by analog or digital signal from Arduino. (A separate Arduino board is not required)
Sample and hold, Arpeggios, noise, and bit crush effects with open source code so you can program your own sounds!
All the analog sounds of the original Thingamagoop.
Controllable LEDacle – Ramp and random waveforms with rate control.
New modulators – Square wave amplitude modulator and triangle wave pulse width modulator.
Tough, stomp box type body with silk screened graphics in 3 different styles.
Easy to access battery – No more screws!
Much fuller and louder speaker.
CV in and out.
Arduino Programmer jack. Easily hook an Ardunio board up to the Thingamagoop 2.
Kit now comes with a pre-drilled enclosure.
Still assembled in Austin, Texas by Dr. Bleep and friends.
# Tunited
Tunited is a groundbreaking new independent music website which will assist new and independent artists and labels gain increased exposure, challenging the flagging music business' growing reluctance to invest in this exciting area.

The top 100 artists will upload their music catalogue onto the website prior to launch; it will then be made available to the press and music industry for showcasing before the site goes live.

To become a profile artist, please click on the button below to enter your details and upload your track before midnight on 11.12.09. Your music will be judged by Tunited's panel of experts including Midge Ure OBE.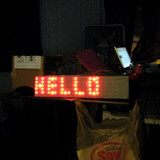 Josh made a LED sign which displays voicemails from his Google Voice account.
I made the LED sign following instructions from this tutorial on Nerdkits.com. The hardware is some LED's, a nerdkit, a piece of cardboard and a bit of wire that I got from some Cat 5 cable laying around. I cut out the cardboard and printed a grid to help me lay out the LED's. I think mine were 1 cm apart. The soldering took forever and it was the first real time I did any soldering so it looks kinda crappy. Oh well. It works. The sign itself is powered by a 9 volt battery and receives data from my laptop through the serial port via a USB adapter. All that stuff was included in the Nerdkit when I bought it. The microcontroller is running code from the tutorial I mentioned earlier. One of these days I'm going to make an enclosure for this thing.