Short links for November 17th, 2008
Some interesting things I found recently: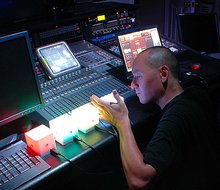 # An interview with Richard Devine
Percussa's Bert Schiettecatte writes:
A while ago we went to Winter NAMM (in January 2008), to show the AudioCubes. We were lucky to hang out with our good friends Kyle and Ryan from Subtractive, they have a studio in Santa Monica and do a lot of great sound design and composition work, while at the same time producing film and working on their album (see the Test Short Starfish remix contest from a while ago, which was featured on Percussa's main website).

Ryan and Kyle have been AudioCube users since the very beginning, I think they have serial number 10 on their cubes. They introduced us to Richard Devine, and naturally a discussion about his work and music technology emerged.
# true – The new sound, light and dance performance, true is a stage performance piece that explores the relationship between the brain and the reality we face, and is, performed by two performers.
# ISM: The Quantum Hall Effects — impulse responses from nanospace for convolution reverb. Tony Dubshot writes:
After many years of fundamental research in cooperation with the Kamerlingh Onnes Laboratory (Leiden Institute of Physics) the ISM studio proudly presents 'the sound of nanospace'. It's all about levels of magnification and breaking down the wall between analog and digital sound. Quantum hall fx are nothing less than a paradigm shift in the perception of time and space.
You can download a 27.1 MB archive of 24bit impulse responses released under a Creative Commons license from the ISM blog.
# SOUNDS.BUTTER Visible Sound – The "Visible Sound" project attempts to create a physical version of the sound around it by sewing sound waves in realtime. Although this was just a concept, we like ways of making invisible objects like sound waves into tangible forms.