Short links for November 25th, 2010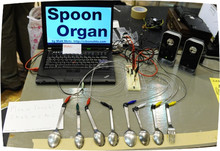 Some interesting things I found recently:
Spoon Organ is an instrument that I created to show at the Make Tokyo Meeting 06 this past weekend. The user can play musical tunes simply by touching a row of spoons sitting on a table, with a fork added in for good measure. A microcontroller is used to detect changes in capacitance caused by a finger pressing against the metal, which are then sent to a computer using the MIDI protocol.
# Modulate Holiday Gift Sound Pack – Vote for Your Synth Format
Mark Mosher is preparing a holiday gift and you can let him know which synth format has your preference.
The elves at Modulate This are working on a holiday gift for you – a free sound pack! As you know it's a busy time of year for elves, so we need some feedback on where to focus our sound design magic. Ableton Live 8 Livepack format is a given. Also, you can download last year's holiday gift here.
# Interview: Music Production Guru and Violinist Laura Escude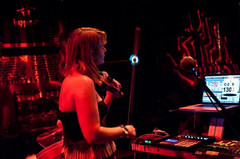 Peter Kirn interviews Laura Escudé.
She's a composer, a sound designer, a performer, and a violinist; she's recognized as an expert in Ableton Live and has worked with artists ranging from Cirque du Soleil to Kanye West. But now we really get to hear Laura Escudé's musical vision as a complete picture in her debut album this year, Pororoca. That seemed the perfect time to talk to Laura about her work, particularly as it lies at the intersection of vectors in sound, visuals, and technology that matter so much to so many of us. Laura shares where she sees the music scene going, her own evolution in finding her sound and performance style, and what still lies ahead, and proves – as expected – a fantastic resource for thinking about issues artistic and technological.
Looks like some of Laura's favorite software instruments are the same as mine, including Rob Papen synths (especially BLUE), Native Instruments Massive and Reaktor, and u-he's wireless virtual modular Zebra synth.
# Free Korg Legacy MS-20 Patches
More free patches from the Waveformless blog:
Waveformless reader Joel has shared a bank's worth of patches he made for Korg's Legacy MS-20 plug-in. Thanks for sharing, Joel!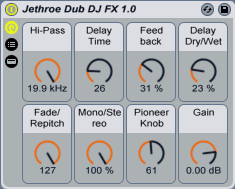 Jethroe has posted a free Ableton FX rack which will help you get some of those dirty dub sounds.
He also posted a couple of other interesting Ableton related things recently. Wondering how to warp multitrack audio files in Ableton Live? Check here. Also, a variphrasing in Ableton Live step-by-step here.
# Dan303: Free DIY Techno/Minimal
Dan Weatherall is back with some free samples:
This sample pack contains a selection of high quality samples ideal for use in your DIY Techno/Minimal productions.
Loops/Samples are all in Cm and at 120bpm

All of the samples are completely free to use in whatever way you wish.

303 lines: 12
Percussion: 23
Siren FX: 8