Short links for November 5th, 2010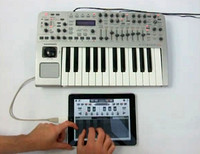 Some interesting things I found recently:
# On iPad, iPod touch, and iPhone, New MIDI Support, via Wires, Wireless
MIDI for your iPad is coming!
Peter Kirn writes:
Over 25 years later, portions of MIDI introduced early on in the spec remain relevant. And if you want to connect your MIDI-equipped gear to Apple's iPod touch, iPhone, and iPad mobiles, you will soon have an array of choices.

In iOS 4.2, best known for leveling the playing field between Apple's handhelds and tablet, you'll get full-blown MIDI support. It was clear in leaked details from earlier releases that Apple's Core MIDI framework was finding new life on the mobile OS, but not directly what that would mean for hardware. Now, the hardware picture is clear.
# Korg Publishes Monotron Synthesizer Schematic
From the adafruit industries blog:
Korg has published a reference schematic for their excellent Monotron analog synth. Folks in the circuit bending community have been hacking this thing since it came out, but now we have a schemo to follow. Yet another tool in the neverending quest for a fat, tasty bassline. r0ck!
Konkreet Performer is a control instrument for live music performance. Its unique and intuitive multi-touch interface reconnects the musician's actions directly with the music.
Taking full advantage of the possibilities created by the latest multi-touch technology, Konkreet Performer delivers a revolutionary new way to control your DAWs, synthesizers, samplers (anything that receives MIDI/OSC). More than a studio controller, Konkreet Performer has been designed from the ground up to be a superior live performance instrument, bringing the dynamic audio and visual connection between the musician and the audience to the stage.
Konkreet Performer is scheduled for release as an iOS App at the beginning of 2011.
Adobe Audition for Mac, coming in a future release, will bring modern audio post-production to the platform of your choice. Familiar tools for audio editing, multitrack mixing and recording will meet expanded device support, greater workflow flexibility, and optimized performance. Plus, best-of-breed audio restoration tools make it easy to clean up production audio. With the essential tools you rely on for fast-turn projects, Audition for the Mac brings a fresh face to audio post-production.
A public beta of Audition for the Mac is expected for Winter 2010.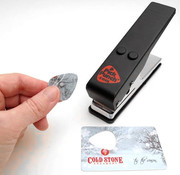 Check out this awesomely practical little guitar pick punch. You could buy a huge pile of picks for what it retails for, but then you wouldn't get the satisfaction of creating your own custom picks out of flat pieces of plastic and other pick-worthy scraps you've got laying around.
via Make: Online
# Free FM8 patches from Waveformless
Tom writes:
This past Friday, I posted some samples of a resonant, metallic synth sound I made in Native Instruments FM8. A reader asked if I would post the actual FM8 patch, and I thought, "hey, why not?" As you can hear, the actual patch is a lot more lively and fun to play than the sample. 2 variations are included.
# Profound Brian Eno Video Interview
Peter Kirn at CDM:
There's really nothing about this video that isn't brilliant. Be sure to keep watching for the final line; it's what I think is a transformative quote about the nature of music production. From Pork Magazine's Dick Flash – that outlet is of course better known in the UK than here Stateside. I could say more, but — really, just watch.
# cl516: Free Synth Bass Saturday
Free samples from Calvin Cardioid.
Free synth bass Saturday! Just add water! Ok maybe not water, but here are 8 synth bass grooves just waiting for you to add drums, melodies, other parts, etc. Give them a shot, you might find they'll fit into your mix nicely. Or build up something brand new around them! If you make something cool with it, share it with me if possible. No rights reserved on these samples. The number in the track title indicates the BPM.
# SoundCloud set: Live_@_? by +dB
Amazing collection of live sets collected by +dB. Includes Boards of Canada, Radiohead, DJ Shadow, Flying Lotus, Squarepusher, Jeff Mills, Goldie, Aphex Twin, Autechre, Orb, Amon Tobin… just to name a few!