Short links for November 6th, 2008
Some interesting things I found recently:
# YouTube – "Monkey Jazz" : BEARDYMAN & mr_hopkinson™
Fantastic video of Beardyman doing the jazz thing.
Combining the talents of 2 times UK Beatbox Champion Beardyman and master of the edit mr_hopkinson, this is a one take performance by Beardyman using live looping technology that has been visually explained and augmented by mr_hopkinson's edit and animation.
More here: http://www.monkeyjazz.co.uk
# elastic~ – the ultimate pitch-shifting time-stretching looping MaxMSP object – Incorporating the same algorhythm as software giants Cubase, Ableton Live, and Kontakt, elastic~ is a powerful and intuitive tool for looping, pitch-bending and time-stretching audio within MaxMSP.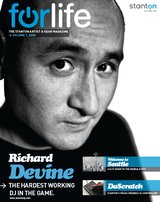 # For Life – Free DJ Magazine From Stanton (pdf)
Stanton is thrilled to announce the first issue of our new hybrid magazine/lifestyle catalog, "For Life"! This new e-zine will be issued periodically to bring our DJs interesting articles, all our latest gear, and even a special "city guide" that focuses on a different city each issue and highlights all our favorite spots. We're excited about this new venture, and hope that you enjoy reading it as much as we enjoyed creating it! This issue features the new SCS.3d controller, artist Richard Devine, an insider guide to Seattle, and more! Check it out!
You can subscribe to For Life Magalog and Stanton News here.
# LP 2 FLASH – LP 2 FLASH is the fastest and easiest way to convert your vinyl recordings directly to an SD card or USB thumb drive* without the need for a computer. LP 2 FLASH listens for the silence between songs on your recordings and automatically breaks up album into individual tracks. Once converted, you can listen to your music on any audio player with a standard SD card slot, or on your computer. Converting your records is a snap with LP 2 FLASH!
# Touch the Wave – Objective-Audio – Free iPhone app for looping and scratching. More info over at CDM.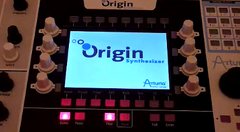 # Music Thing: Review: Arturia Origin
Tom Whitwell: It's big, it's expensive, it's sexy. Why don't I want one?
Why am I writing this, rather than playing with the thing? How come I've already taken the top off to have a look inside and see how it all works? Because the Origin has crossed that line – it's not a hardware synth, it's a computer in a box covered in knobs.
# Noise.io – iPhone Synth – iPhone Synthesizer – Noise.io is one of the most intriguing applications for iPhone/iPod Touch which is available exclusively on the AppStore. It is a unique, new-generation sound synthesizer for iPhone / iPod Touch featuring revolutionary user interface and technologies: ESFM, ControlSurface, SoftRibbon and many more. Noise.io has hit the AppStore on the 30th of October 2008 and is available for purchase for $9.99
# Software Programmer Dreams of New, Small Music Machines – Belgian musician Marc Resibois talk about little music machines.
Peter Kirn writes:
Marc "Nostromo" Resibois, aka "m.-.n," lives the digital life of computers. The Belgian musician and hacker [@MySpace] is renowned as a Game Boy musician, as the inventor of legendary Nintendo tracker LittleGPTracker, and even has a day job as a programmer for VJ software maker Arkaos. But lately, his thoughts have turned to more traditional synthesis hardware – hardware that acts as tiny computers. Nothing is going to shake me from my love of computers, but that doesn't mean I'm not interested in having what he describes sitting next to mine. Here's what he imagines – and it's a variation on a theme I think we'll see a lot in the coming weeks and months here on CDM. And without giving away the punchline, that Nintendo DS is going to make another appearance.