Short links for September 18th, 2008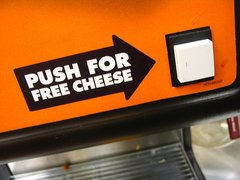 Some interesting things I found recently:
# IK Multimedia Rebuts Mag on Free Software; Why They Missed the Point
Freeware vs Commercial software? I know what I prefer… Whatever gets the job done!
Peter Kirn wrote a great article at CDM:
There's a strange debate going on over the free software (as in freeware, not necessarily open source) issue of Computer Music magazine. After seeing the magazine's top 10 reasons to use free software, commercial developer IK Multimedia got surprisingly defensive, and issued a rebuttal.
# aeo: DrawSound + Balls
DrawSound is a performance instrument that uses multi-touch input technology to create sound and music from the act of drawing. DrawSound has been used live by The SINE WAVE QUARTET and aeo. It was on display at the Second International Conference on Tangible and Embedded Interaction [Bonn 2008].
# Stanton to Release Touch DJ Controller; Surface One, Thunder, Reborn?
Peter Kirn reports on the Stanton DaScratch
Stanton is teasing a new DJ controller with touch controls, and particularly a circular scratch/control area, with live LED feedback. This allows "virtual" controllers not only for DJs, but (Stanton hopes) VJs, laptop musicians, and the like. (Stanton says "multimedia artist," to which we suggest "visualists".) I especially enjoy the "confidential" site, though I'm not sure marking press release with "do not publish / embargoed" has much more impact given a lot of sites these days.
# hiuman – Runaway Harp – As the 1mm water streams are interrupted, the light weakens, fingers find delights in the water harp. Echo is silent, until light returns.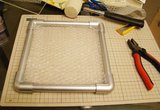 # TENORI-OFF
FUKUCHI Kentaro writes:
TENORI-ON is one of the coolest electric musical device: it is portable, easy to play and good for audio-visual performance. But I have not purchased it yet because it is expensive and a shortage in Japan.
So he built his own version, the Tenori-Off.