Short links for September 28th, 2009
Some interesting things I found recently:
# Max For Live Sneak Peak (Vimeo)
This is a sneak peak into Max4Live. This will show you a basic intro into what you will see in the M4L environment.

# 7up Live – a Java application that combines 8 different monome applications into one interface.
With it, your monome communicates with Ableton Live 7 via MIDI and allows MLR-like functionality along with other goodies like sliders, sequencing melodies, creating patterns of beats, saving/loading/queueing your songs, and more.
# sammichSID – designed to be the "no excuses" MIDIbox SID synthesizer kit – i.e. for all those people who want a MIDIbox SID but consider building it with modules too time-consuming, too newbie-unfriendly and/or too hard to design and construct a control surface, and where MB-6582 is too expensive, too daunting and/or too hard to source all the parts.
sammichSID therefore has the following design constraints/features, which support each other:
cheap
small
DIY newbie friendly
minimal control surface
single "walwart"/AC adapter supply, no C64 PSU brick!
stereo SID, optimized for 8580/6582A, 6581 optionally supported
"sandwich-style" stacked PCB design, no wires!
laser-cut 3mm acrylic case by Ponoko, customization possible
industry standard 2×20 character LCD with low-power LED backlight, customization possible
common control surface parts used, customization possible
To be available as a complete kit, including PCBs, components, case, hardware and (optionally) two 6582A SIDs!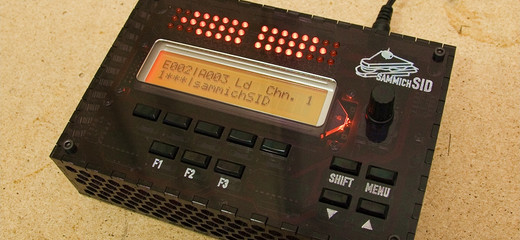 sammichSID
MIDIbox SID Synthesizer V2 features
One Core module and one stereo SID module, fully integrated on one PCB with power supply.
Five "BankStick" slots, so you can store 4 banks of 128 patches, plus 128 "Ensembles" (engine and patch configurations)
Jumpers to configure the power supply, allowing a regulated 12V input to power 6581, or unregulated AC/DC input to power 8580/6582A.
Minimal control surface with three user-customizable buttons and LED matrix for maximum bling.
2×20 character LCD with support for low-power (25mA) or high-power (250mA) LED backlight.
Potential for future upgrade to MIDIbox SID Synthesizer V3 using add-on board
# glitchscape – An online sine-wave loops creator.
Glitchscape is an experimental sound/vision musical instrument designed and programmed by Tomasz Salwnikowsi, freelance Flash developer.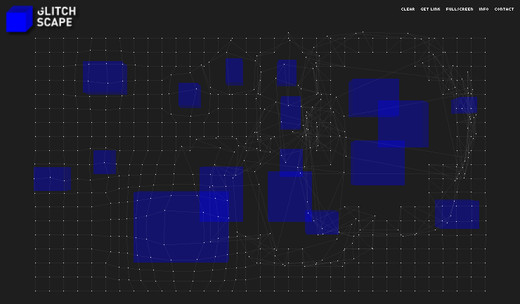 glitchscape – draw blocks to create melodic sine-wave loops