Short links for September 3rd, 2009
Some interesting things I found recently:
# Tactile Metronome – Wayne and Layne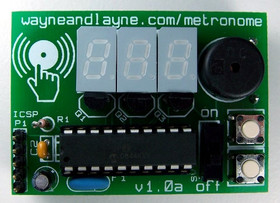 The Tactile Metronome is a tap-controlled metronome and "beat looper." "Syncopation machine." "Metronome with an attitude."

You tap the piezo speaker to set the frequency. The display shows the beats per minute, and the two buttons adjust the speed.

"Ehhh." "Boring," you say. Not so fast!

You can tap patterns into it, currently up to 12 beats long. As long as you tap the pattern in three times, it jumps in and continues beeping in that rhythm. The metronome can beep in three different tones, so you can play with more than one at a time.
Tactile Metronome features
Easy to assemble kit makes for a great learning experience. All parts are easy-to-solder through-hole, with no tiny surface mount parts.
Fully open-source design means that everything is freely available and ready to be hacked, including the circuit schematic, PCB layout, part list, and microcontroller firmware.
Piezoelectric speaker is used as the pattern input, by simply tapping in the tempo or pattern. Once the metronome learns your pattern, it starts beeping with the same piezo element.
Seven-segment displays provide feedback in the form of beats-per-minute (BPM) readings.
Custom, professionally-made PCB provides a solid base for happy tappers. All circuit connections are routed on two layers without the use of vias, reducing confusion while assembling.
A Pre-programmed Microcontroller means you don't need a specialized microcontroller programmer to get started with the Tactile Metronome. If you want to experiment with modifying the firmware, an in-circuit serial programming (ICSP) header is provided to enable easy re-programming.
# Stereoklang – Reason Refills – We have been collecting free or demo Reason Refills for over 7 years and of course we are happy to share them with the rest of the world.
All Reason Refills you will find on this site are non-pirated this means that they are free to use in your music production, however we of course encourage you to visit the orginal sites for more information where available.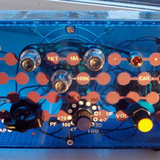 # Circuit bending work station
Matt the modulator built a deluxe substitution box for experimenting with different resistor & capacitor values for circuit bending.
Circuit bending work station
Resistance pots (4k7, 100k, 1m).
Capacitance – 12 caps selector poly 47-pf, 100-pf, 470-pf, 1-nf, 4n7 nf, 10-nf, 100nf, 1-uf, 1uf elec 1uf, 4.7uf, 10uf, 100uf.
LED.
Signal tracer simply a 1w amp maplin kit to trace audio signal in a circuit.
# Drum processing with Depeche Mode (YouTube)
Kerry Hopwood is the Live Programmer/Musical Director for Depeche Mode. When it comes to staging a live DM show, theres no cutting corners. Kerry puts it simply: We need to use tools that work. In concert, Kerry and Depeche Mode rely on Ableton Live as an integral component of shaping the bands drum sound. In this movie, shot at a concert in Berlins Olympiastadion, Kerry discusses the advantages that Live offers for on-stage sound processing.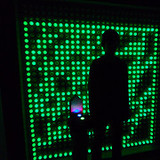 A project featuring Evil Mad Scientists' Peggy 2.0.
We built a giant LED board, about 6.5×6.5 feet, with 900 LEDs using ping-pong balls as diffusers. It can play Conway's Game of Life, Pong, and Sketch mode that allows you to create a starting pattern for Life. We output board state information to a MIDI board that allows us to make music based on what is displayed. This gets interesting with Life, creating minimalist generative music.

See it in action here: www.youtube.com/watch?v=Zu5ORo3Im1g
# Free Samples: The Icicle Session – Kent Williams has a new free set of samples.
Kent writes:
Last winter I went out and tapped on icicles hanging down from our eaves over the front porch. And apparently I cut it up into a sample set and didn't do anything with it. These I release into the public domain. Knock yourself out.
# mOne – Open source step sequencer

Hardware Step Sequencer
8 tracks of 8 patterns with 16 steps each
Each track can have its own MIDI-Channel (In, Out)
Internal resolution of 24 pulses per 1/4 note (PPQN)
Recording through external MIDI-equipment
External and interal synchronisation (Play, Stop, Resume, Clock)
Modify the sequence during playback
Open-Source software concept
Programmed with Arduino IDE
Based on Atmel ATmega1280
USB interface for communication with the PC / MAC
MIDI interface (MIDI input, MIDI output)
28 silicon buttons, 2 rotary encoders with confirmation and an LCD display
# Röyksopp 'Tricky tricky' remix comp
This is yet another shabby attempt at giving something back to our fans – or rather get our fans involved in our shabby doings… Yes, this is an invitation to all of you dedicated souls out there who want to take part in the Röyksopp legacy!

We feel that track "Tricky Tricky" has so much potential, it deserves a life outside the album. Not only is this a chance at beating us at our own game, you also get to mess around with Karin Deijer-Andersson's extraordinary vocals! Now, how about that?!?

For those about to remix – we salute you!

Señors B + B