Short links for September 4th, 2008
Some interesting things I found on September 4th, 2008: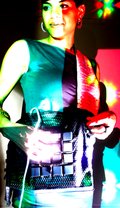 # elektro-07 v.1 – the elektrocardio midi controller
Rucyl Mills writes:
I built the elektro-07 so I could control the sonic and visual parameters of my live performances without having to look deep into the eye of my laptop, hunched over in computer music stance. I'm still learning how to play it.. Software wise, it runs a maxMSP/Jitter patch smoothly, connected to my laptop by a long usb cable. Major thanks to Luke DuBois. Originally it was named the Chakakhantroller after Chaka Khan… but you wouldn't believe how many people don't get the reference.. so I changed it to Elektro-07 after my newly launched label, Elektrocardio. Next version will be wireless, and yes… it's made of black leather and snakeskin.
# Rough Rider – Chris from Audio Damage put up a teaser screenshot of a compressor effect on his blog Analog Industries. Sure looks tasty!
# How to make a Frequency Generator
Ryan McGinty writes:
On cloud busters Fredbuster created a wonder tutorial for getting started and building your own Zapper. Fredbusters Tutorial in PDF-Based off his design here is how I made my frequency generator.
# Google Chrome Comic – Cool comic about Google's web browser. I've been using Chrome for a few hours and it feels quite nice. A simple & intuitive interface, and no crashes yet.
# DS News and Videos: Korg DS-10 Arrives 10/14; GrooveStep Set Free Soon
Peter Kirn writes:
At your desk, you want another few moments with FL Studio or Live or Pd or Pro Tools or (your app here). Then, you kick back on the couch or on the bus to play with … more music software. Yep, you're one of us. Here's the latest from the world of Nintendo DS music apps.