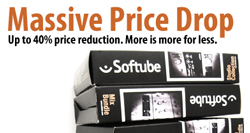 Softube has announced it has lowered the prices of its audio processing effect plug-ins up to 40%.
More is More for Less! Massive Price Drop of up to 40%

Softube is announcing a massive price drop of up to 40% today, making our award-winning plug-ins even more affordable.

The changes differ for each product, so be sure to check out the complete list below.
Product
Vintage Amp Room
$329
$219
-33%
Tube-Tech Classic Channel
$699
$489
-30%
Tube-Tech CL 1B
$449
$329
-27%
FET Compressor,
Summit Audio TLA-100A,
Tube-Tech PE 1C,
Trident A-Range,
Valley People Dyna-mite
$279
$219
-21%
Bass Amp Room,
Metal Amp Room,
Passive-Active Pack,
Tube-Tech ME 1B
$199
$159
-20%
TSAR-1 Reverb
$329
$269
-18%
Amp Room Bundle (dealer only)
$499
$299
-40%
Studio Collection (dealer only)
$999
$799
-20%
More information: Softube