Note: this post is from 2009, outbound links may be broken.
Sony Creative Software updates Sound Forge Pro to v10.0a
Related:
audio editor
,
iZotope
,
mastering
,
recording
,
restoration
,
software
,
Sony
Posted in
news
on Oct 20, 2009 -
0 comments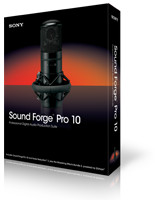 Sony Creative Software has released version 10.0a of Sound Forge Pro, an audio editor for Windows PC.
Sound Forge™ Pro 10 software efficiently and reliably provides audio editors and producers complete control over all aspects of audio editing and mastering. Whether in the studio or field, it's the ultimate all-in-one production suite for professional audio recording and mastering, sound design, audio restoration, and Red Book CD creation. New features in Sound Forge Pro 10 include precise event-based editing, integrated disc-at-once CD burning, musical instrument file editing and processing, and pristine audio conversion and time stretching.
Changes in Sound Forge Pro v10.0a
You can now edit samples in musical instrument files. Select the sample you want to edit, and then choose Edit > Event > Edit to open the selected sample in a new data window. After editing, you can save your changes back to the musical instrument file or to a different format.
Disc-at-once workflow improvements:

Audio moves with CD tracks when dragging CD tracks with the Edit tool.
CD tracks move with events when dragging events with the Event tool.
CD Tracks can now be locked to audio/events using Options > Lock Audio and CD Tracks.

Added automation support to the élastique Timestretch plug-in.
You can now edit the Original Tempo setting in the élastique Timestretch plug-in.
Scrollbars have been added to the Plug-In Chainer.
When you have data windows maximized, the window title is now italicized during playback to indicate which window is playing.
Improved AAC file support.
Fixed a bug that prevented Sound Forge Pro from opening or saving MPEG-4 audio when QuickTime 7.6.4 is installed.
Fixed a bug that could cause corruption in Broadcast Wave Format metadata.
Fixed a bug that prevented the waveform from being displayed properly within a smooth fade-in curve when zoomed out.
Fixed a bug that could cause the élastique Timestretch plug-in to crash on 32-bit PCs that do not support SSE2.
Fixed a bug that could cause markers to shift after using the iZotope 64-bit SRC plug-in.
Fixed a bug that prevented read-only project files (*.frg) from opening properly.
Fixed a bug that could cause Save to truncate tailing silence in certain scenarios.
Fixed a bug that prevented Mix/Replace from displaying the entire mixed result.
Fixed a bug that could cause short clicks at the end of certain preview operations.
More information: Sony Creative Software / Sound Forge Pro