Soundtoys launches Summer Sessions sale
Soundtoys has announced Summer Sessions, a limited time sale on the Soundtoys Native Effects bundle and individual plug-ins.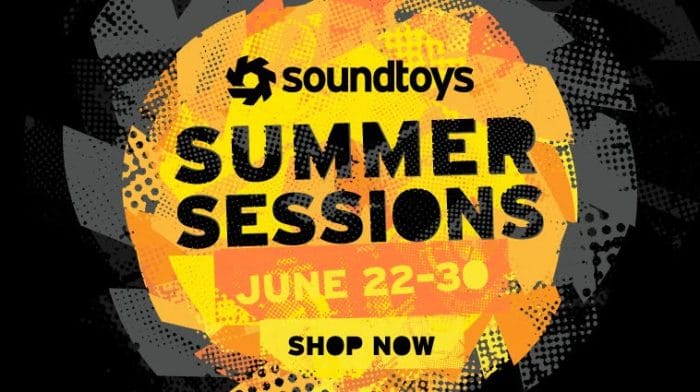 Put some serious analog warmth into your sessions this summer with amazing deals on Soundtoys effects plug-ins.

For a limited time, get the Soundtoys Native Effects bundle for only $379 (Reg. $495) with a free upgrade to the upcoming Soundtoys 5. Or snag EchoBoy for only $99 (Reg. $179), along with other great specials including Little AlterBoy, voice manipulator, and Little PrimalTap, retro delay. Both available to purchase for the first time. Grab a deal before they're gone, and heat up your sessions all summer long with Soundtoys.
Soundtoys Summer Sessions
Soundtoys Native Effects: Only $379 Reg. $495 (Includes EchoBoy, Decapitator, FilterFreak, Crystallizer, PhaseMistress, Tremolator, and PanMan. Free upgrade to Soundtoys 5 upon release*).
Individual Plug-in Specials:

EchoBoy: $99. Reg. $179
Decapitator: $99. Reg. $179
FilterFreak: $99. Reg. $179
Crystallizer: $79. Reg. $179
Tremolator: $79. Reg. $179
PanMan: $79. Reg. $179
PhaseMistress: $79. Reg. $179
MicroShift: $79. Reg. $129
Radiator: $79. Reg. $129
Devil-Loc: $79. Reg. $129
Little AlterBoy: $49 Reg. $79
Little PrimalTap: $49 Reg. $79
The sale ends June 30th, 2015.
More information: Soundtoys / Summer Sessions
* The Academic Bundle is not included in promotional pricing. Individual plug-in purchases will also receive a free version 5 upgrade to the equivalent product upon its release.