Stikkit: Sticky notes on your screen
Stikkit is a new web 2.0 (*dazzle*) application that brings the familiar sticky note to the screen. It was presented at the Web 2.0 Summit Launch pad.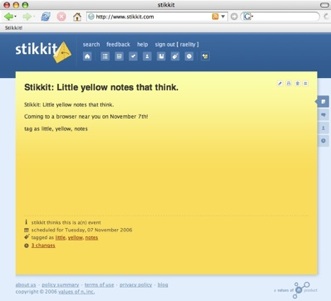 Skikkit screenshot
Stikkit gives you the digital equivalent of a sticky note: the easiest thing you can grab to jot down an idea or reminder. As you type, Stikkit watches for appointments, to-dos, people, bookmarks and more, magically extracting and organizing the important details. It's like having a personal assistant following along after you.
The cool thing about Stikkit obviously is that it's on the web, so you can easily share your sticky notes with others.
Check it out and sign up for the free beta at Stikkit.com.