Synapse Audio updates DUNE virtual synthesizer plugin to v1.35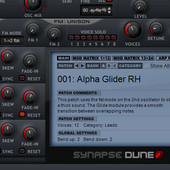 Synapse Audio has released version 1.35 of Dune, a virtual synthesizer instrument plug-in for Windows and Mac.
DUNE (Differential Unison Engine) is our flagship synthesizer, a massively complex, yet easy to use subtractive synthesizer with a high-end sound quality that does not fear the comparison with expensive hardware.
Changes in Dune v1.35
On the second modulation matrix page, the row numbers were incorrect, fixed.
The MIDI Forget option did not work properly, fixed.
The LP24 Ladder filter model could go unstable when both high resonance and FilterFM were used at the same time, fixed.
[Win] Ctrl+Click now sets the default value from the Init Patch.
[Win] Cubase 6-64 did not always detect Dune, fixed.
[OSX] Logic 9 Touch Automation did not work in the 64-bit Audio Unit, fixed.
[OSX] Command+Click now sets the default value from the Init Patch.
[OSX] The 32- and 64-bit editions are now installed in a single package. By clicking on the Dune logo, you can see which edition you're currently running.
Dune is available to purchase for $139 USD.
More information: Synapse Audio / Dune