Related:
BFD
,
drums
,
FXpansion
,
samples and sound libraries
,
Yamaha
Posted in
news
on Sep 10, 2009 -
0 comments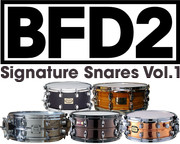 FXpansion announced the release of BFD Signature Snares Vol.1 Expansion Pack, a collection of Yamaha artist signature snares for your BFD2 library.
With the usual high levels of detail, multiple channels and multiple articulations, BFD Signature Snares Vol.1 is ready for you to sequence and mix using BFD 2.1′s powerful software interface.

The snares are captured in the same room as the previous Yamaha expansion kits and the Jazz & Funk, Percussion and B.O.M.B expansion packs, in Omega Studios, Rockville, MD, USA. The tight, precise and very playable sound makes them sound great when combined with any kit-pieces in the BFD library.

BFD v2.1′s support for custom articulations allows these snares to offer 'rim clicks' in addition to the standard snare articulations, as well as positional sensing when used with electronic drums.
BFD Signature Snares Vol.1 Expansion Pack features
Five signature Snares

Roy Haynes Signature Snare Drums (14″ x 5.5″)
Bamboo Snare Drum (14″ x 6.5″)
FHP (fibreglass) Snare Drum (14″ x 6″)
Dave Weckl Signature Model (14″ x 5″)
Mike Bordin Signature Model (14″ x 6.5″)

Multiple articulations including rim clicks.
Played with various beaters (sticks, brushes, mallets & rods).
BFD Signature Snares Vol.1 is available for purchase as a download from the FXpansion web shop for £35 GBP / €49 EUR / $70 USD for all registered BFD2 owners. Registered BFD2 owners with one or more of the Yamaha Expansion Kits (Maple Custom Absolute or Oak Custom) can purchase the expansion pack for £25 GBP / €35 EUR / $50 USD.
More information: FXpansion