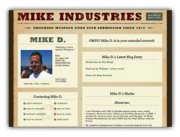 A few months ago Mike Davidson took on the beast that is MySpace and turned it into something pretty sweet.
In his article Mike shows how to customize your MySpace profile so it actually looks clean and professional, unlike the average MySpace page.
If you are on MySpace and have not yet customized your pages, you might want to take the opportunity to read Mike's Hacking a more tasteful MySpace.